Features
— 01 August 2014
— by Adele Ramos
UB launches drone for GIS monitoring
In early June, the Belize Fisheries Department began using a Conservation Drone for offshore surveillance, as part of its new law enforcement strategy, and this week, the University of Belize (UB) sent a new drone into Belizean skies, in the hope that it would start a wave of data-gathering to feed into its Geographic Information System (GIS), which has the potential to provide useful information about flood events.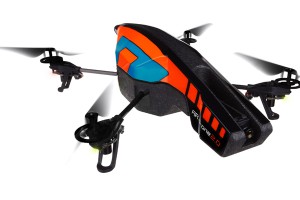 Dr. Pio Saqui, UB's Dean for the Faculty of Science Technology (FST), told Amandala today that every summer since 2010, Georgia State University (GSU) has been bringing students to Belize for field school activities. GSU reports that the 12 students have been working on researching and mapping sugar cane agriculture, coastal debris, health and biodiversity on the Belize barrier reef, and have also been recording tourist perceptions of safety along the Caribbean.
On this occasion, Dr. Timothy Hawthorne, Assistant Professor of Geography at GSU who is in charge of the group, presented the Parrot 2.0 drone on behalf of GSU to Dr. Saqui.
"The drone device is basically a small flying object that can be controlled using a tablet or a Smart phone," Saqui told us.
In its inaugural flight at 10:00 a.m. on Wednesday, July 30, the drone was flown over UB's campus at about 100 meters to capture high-resolution pictures of the compound.
Saqui said that the device can be used for mapping out very important areas, where walking or driving would be difficult.
"It can be used for monitoring floods after a major event," he said, adding that the images could be uploaded to a data bank and with repeated monitoring over years, they would be able to decisively tell where the water flows and how that may affect development, such as urban expansion or the establishment of housing projects.
Saqui said that the device weighs no more than 3 pounds and is "fairly safe."
He said that similar drones are even flown inside of stadiums and at big events in US, and are used a lot in research, such as in tracking wildlife.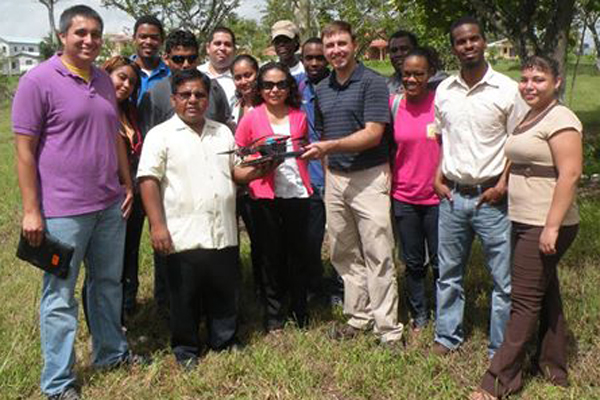 According to the Dean, the vision is for UB to bolster its GIS capability, as part of its natural resources program.
Chair for the Science Department in FST, Cecy Castillo, said "…the use of Drone technology will not only enhance our current GIS course offered, by exposing students to cutting edge technology and hands- on learning, but will also enable the University to expand on its research capabilities."
"There is a chance of growth in use of drones for research by 6-fold within the next 5 years," Saqui said.
"Industries are looking at it as a very necessary or essential tool in gathering for geo-spatial analysis," he added.
Saqui told us that the university's provost, Dr. Wilma Wright, has expressed support for a formal partnership between UB and GSU.
He also said that whereas they have a very strong ICT program, chaired by Dalwin Lewis, which focuses on training youth in the area, they are also extending an invitation to stakeholders who believe that the university could provide services that are relevant to them.
The faculty can be contacted via e-mail at [email protected]
Related Articles
Share
About Author
(0) Readers Comments