BELIZE CITY, Tues. May 5, 2015–The Public Utilities Commission (PUC) yesterday announced its initial decision to reduce electricity rates by 15.24% – a reduction which would see electricity rates fall to 35 cents per kilowatt-hour, the lowest in over a decade.
Back in October 2004, when the Belize Electricity Limited (BEL) was privately owned and operated, the company proposed an increase in tariffs of 3 cents per kilowatt-hour, amounting to about 10%, bringing to an end a long streak of falling electricity rates, which the company said had lasted since 1984.
Since then, electricity rates have been fluctuating, but they have been on a general downward trend since the 16.87% rate hike was imposed in January 2013.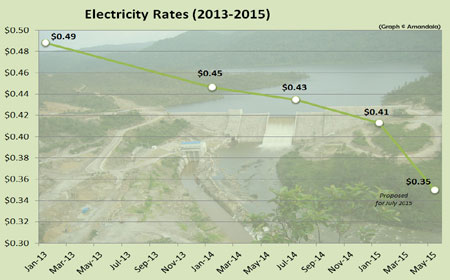 At the time, rates peaked at 48.86 cents per kilowatt-hour. If the new rates take effect, it would result in a total rate reduction of almost 30% for the past two years.
In January, light bills came down by 5% on average. The latest PUC decision, calling for a further 15% decrease, follows the Annual Review Proceedings (ARP) for the Annual Tariff Period (ATP) July 1, 2015, to June 30, 2016, which commenced on April 1, 2015. At the time, BEL proposed a 10.4% reduction in rates to yield a mean rate of 37 cents per kilowatt-hour.
BEL had explained that, "The proposed rate reduction is attributed to a significant reduction in the cost of purchasing power from Mexico's Comisión Federal de Electricidad (CFE), following Mexico's move to dispatch energy at a cheaper price, by utilizing hydroelectricity and moving to the use of cheaper, cleaner fuels such as natural gas and other renewable energy sources, compared to heavy fuel oil and diesel."
The PUC, via a public notice, announced this week that after conducting its review, "The Commission approved a Mean Electricity Rate (MER) of $0.3500 per kilowatt-hour, representing a 15.24% reduction in the MER (current MER is $0.4129 per kilowatt-hour)."
It added that the Commission has also approved various adjustments to the cost of power, the regulated asset value (RAV) and other regulated values approved for the Full Tariff Period of July 1, 2009, to June 30, 2016.
BEL had said that it was proposing changes to the tariff basket that would further subsidize social rate customers; pass on most of the cost savings to residential and industrial customers; provide additional cost savings for medium and large manufacturers that are not benefiting from the special industrial rates; and allow for additional streetlights to be installed, mainly in crime hotspots countrywide.
If there are no objections by Friday, May 8, 2015, to the PUC's initial decision, calling for a 15% rate reduction, the rate of 35 cents will be finalized for implementation on Wednesday, July 1.
The PUC says that the primary duty of the PUC is to ensure that the services rendered by public utility providers in all three sectors are satisfactory and that the charges imposed in respect of those services are reasonable.