General
— 08 August 2014
— by Rowland A. Parks
BELIZE CITY—A Belize City woman who is eight months pregnant and her common-law husband have been charged with drug trafficking, and she has been additionally charged with escape from lawful custody.
Sandra Thompson, 30, and her common-law husband, Richard Smith, 33, residents of Belama, appeared before Chief Magistrate Ann Marie Smith to answer to a joint charge of drug trafficking. Police also charged Thompson with escape from lawful custody.
Thompson and Smith pleaded not guilty to one count of possession of 203.8 grams of cannabis with intent to supply to another for the purpose of drug trafficking.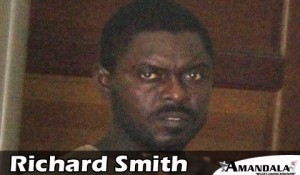 During the arraignment on the drug trafficking charge, Thompson, who appeared uncomfortable after entering her not guilty plea, attempted to explain: "Dah me di officer seh dem see thrown the bag of weed, and they pressure me fu plead guilty fi it, or else they wah charge my common-law husband, who was with me."
The Chief Magistrate told her to stop explaining, and asked her if she did not know that drug trafficking is an offense.
Thompson also pleaded not guilty to a charge of escape from lawful custody.
Seeing that Thompson is almost due to deliver her baby, the court prosecutor, Corporal Christopher Smith, did not object to the court granting her bail.
He objected, however, to granting Smith bail, explaining to the Chief Magistrate that Smith has an additional drug trafficking case pending before another magistrate.
Thompson, in an emotional tone, asked the court to offer them bail, because she has young children at home.
Both Smith and Thompson were offered bail of $1,000. Smith's bail, however, was offered with the condition that he report to the Queen Street Police Station every Monday, Wednesday and Friday between the hours of 7:00 a.m. and 7:00 p.m.
The court stipulated that Smith is not to get arrested for any other offense while he is out on bail.
The couple is to return to court on September 1, 2014.
On that same adjournment date, Smith has another drug trafficking case before another magistrate.
The charge of escape refers to an incident that occurred after Smith and Thompson were arrested and charged with drug trafficking on Monday, August 4.
While they were at the Racoon Street Police Station waiting to be charged for the 203.8 grams of cannabis, police alleged, Thompson escaped from their custody.
According to the police, around 9:30 p.m. while she was at the station, Thompson complained of pain.
She was given permission to speak with her mother-in-law, and that's when, according to police, Thompson threw herself down to the floor and continued to complain of pain.
The police quickly responded and she was escorted to the Karl Heusner Memorial Hospital, where she was taken into the observation room by a nurse.
A hospital security guard, however, told Constable Concepcion Maroquin, who had taken Thompson to the hospital, that someone matching her description was seen walking outside the hospital compound.
When PC Maroquin went to check on Thompson, she found that she had disappeared from the hospital's observation room.
Richard Smith was arrested and charged with drug trafficking on October 13, 2013, after police allegedly found him with 17 kilos of cannabis.
For that charge, he was released on a $6,000 bail. He has retained attorney Ellis Arnold, S.C. for that pending case.
Related Articles
Share
About Author
(0) Readers Comments