BELIZE CITY, Mon. June 25, 2018– Belize City's FC Elite prevailed, 3-1, yesterday at the MCC Grounds in Game 1 of the FFB's Amateur Inter-District Club Tournament Finals against Progresso FC from Orange Walk.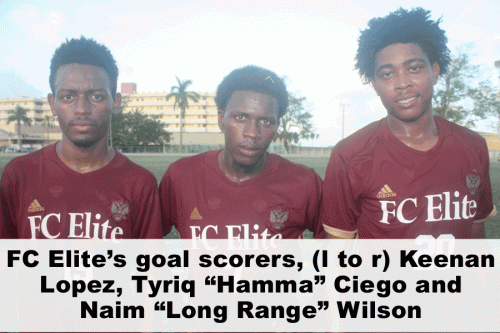 After a home-and-away round-robin with 16 teams countrywide had dwindled to just these two, it was the first visit of the Progresso team to the MCC Grounds; and before they could adjust to the uneven and dusty turf, they found themselves down, 2-0, to the hosts, courtesy of an opening minute strike by Tyriq "Hamma" Ciego (1'), followed a few minutes later by free kick blast from 35 yards out by Naim "Long Range" Wilson (6').  It looked like a rout was possible, but the game got interesting a few more minutes later, as the veteran on the young Progresso team, midfielder Ian Chi sent a long free kick almost 40 yards, that FC Elite's young goalkeeper, Alvin Mangandi seemed to have corralled safely until the last minute when it somehow slipped through his arms and into the net at the 11th minute. But before the half was over, at the 44th minute, the game was put safely out of reach when FC Elite midfielder Keenan Lopez met an errant outlet pass from the Progresso defense and sent it screaming back as right foot cannon-ball that tore into the net from 30 yards out.
It could have been more, but it ended that way; 3-1. FC Elite striker Marlon Gutierrez had to leave the game with an injury mid-way through the first half; their talented midfield/striker Orlando Velasquez was nowhere to be seen; and Hamma wasted some good opportunities that showed his inexperience.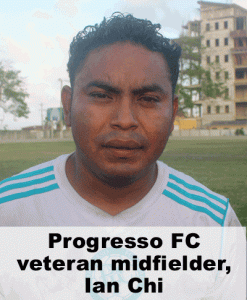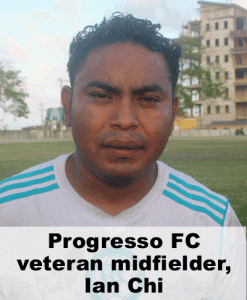 Next week Sunday at Louisiana Field in Orange Walk Town, Progresso FC will be at full strength (reportedly, some of their top players couldn't get time-off from work) and motivated to redeem themselves in front of their home fans; so, FC Elite will have to rise to the challenge if they hope to come back with the championship.
Game 2 for the championship:
Sunday, July 1, Louisiana Field
4:00 p.m. – Progresso FC vs FC Elite