BELIZE CITY, Thurs. Apr. 12, 2018– The Football Federation of Belize (FFB), in collaboration with the National Sports Council, hosted a press conference at the Marion Jones Sports Complex this afternoon where they announced the launching of the second edition of the National Women's Football League, along with the FFB's Strategic Plan for the development of Women's Football in Belize.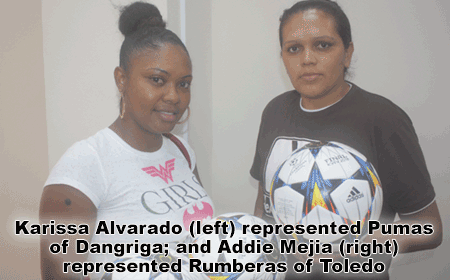 The National Amateur Women's League (NAWL), which commences on Saturday, April 14, comprises of eight teams from across the country, and at the end of the press conference, FFB President Sergio Chuc presented each team representative with complete jersey kits, match balls, and first aid kits. In a brief address, President Chuc said that the biggest part of the FFB's work that has brought the NAWL to fruition, was the tapping into FIFA funding for projects, which the former administration failed to do, limiting themselves only to FIFA operational funding.  He said the FFB plans to do a lot more in the area of accessing FIFA funding for projects to further the development of football in Belize.
In his remarks, FFB Vice President Cruz Gamez, whose portfolio includes Women Football, said that in order to ensure the survival and growth of the Women's League, the FFB will also be covering the full cost of referees for the games, as well as 50% of the cost of transportation for away games. According to the Strategic Plan which he outlined in a Power Point presentation, the "long term objective is that NAWL shall become the premier women's football league with full membership to the FFB and with its independent executive body by 2020."  In this initial phase of the NAWL, the 2017 competition MVP, Iris Centeno, who also addressed the gathering, is performing the role of Director of the NAWL.
The champion of this tournament will represent Belize in the UNCAF Inter-Club Championships to be played in Panama in September, 2018, in which all expenses will be covered by the Football Federation of Belize and CONCACAF.
The teams in the NAWL 2018 tournament are: Sagitun of Independence, Rumberas of Toledo, Pumas of Dangriga, Jewel Fury of Belmopan, Millennium of Belize City, Verdes Rebels of Cayo, Corozal Scorpions, and Gladiators of Orange Walk.
According to the tournament format, the teams are divided into two groups of four teams each – the North Zone and the South Zone.  Teams in each zone will play each other in a home and away schedule; the top two teams from each zone then go on to the home and away semifinals; and the winners then meet in the home and away championship finals.
Belize City's Millennium hosts Scorpions of Corozal in their season opener at the MCC on Saturday. As in the Premier League, Vice President Cruz Gamez said that clubs are left to determine their entrance fee to the games, but he expects the charge to be $5.00 for adults.
FOR THE LOVE OF THE SPORT SUPPORT!!!!