BELIZE CITY, Mon. Mar. 26, 2018–   Six Belizeans, six Americans and one Mexican took off from Columbus Park in San Ignacio yesterday morning in the 29th running of the Women Cross Country Cycling Classic, where the defending champion was Belizean Alicia Thompson, in a race that had seen Belizean women taking the garland in the last 8 consecutive years, since 2010. That string of Belizean winners was broken, as American Jadine Riley rode in alone to take the garland. Only one of the 13 starters (American rider Joan Hanscom of Amy D Foundation) failed to complete the 73-mile journey in bright sunshine to BTL Park in Belize City.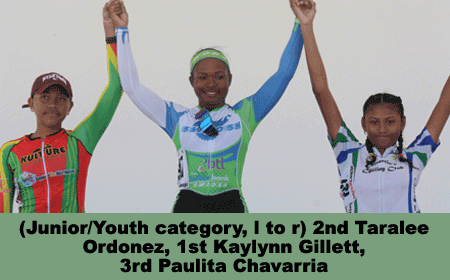 Perhaps, there was a false sense of security among Belizean cycling fans, who were focused on the perennial rivalry between reigning champion Alicia Thompson and past champion Kaya Cattouse. Indeed, were it not for an accident upon entering Belize City at the Belcan roundabout in the recent 2018 Krem New Year's Classic, Mexican Miguelina Lopez might have challenged Kaya and Alicia, who both sprinted to the finish, Alicia taking the championship and Kaya settling for second. Miguelina was back in the saddle yesterday and for sure she wouldn't be making the same mistake again. But, more importantly, included in the field were six Americans, from 3 different teams; and that definitely tipped the cycling scale in favor of a foreigner taking the garland. But Belizean fans were unperturbed. We were all focused on Alicia and Kaya; when perhaps, the foreign numbers should have raised eyebrows enough to realize that the only chance of keeping the garland at home would probably require the unthinkable, Kaya and Alicia making a temporary truce, and a pact to ride as a team in this 29th Women Cross Country.
Would it, could it have made a difference? Who would sacrifice for whom between these two bitter rivals? Was any kind of collaboration even possible between rival teams, C-Ray Cycling and Belize Bank Swoosh?
When Alicia broke away in a solo run from around Mile 60, opening a twenty-second gap between herself and the main peloton, it was a big gamble with difficult odds. With a bunch of formidable (Category 1) foreign cyclists working together in the chase, there seemed little likelihood that Alicia would be able to hold that lead riding alone into a brisk east wind all the way to Belize City.
Reluctant to join what may have seemed an ill-advised early break by Alicia, Kaya remained in the chase peloton of about 5 (Lori Harkey, Gina Kavesh, Hannah Caproon, Jadine Riley – all Americans, and Kaya) that kept a steady pace behind the tiring Alicia. After a gallant solo ride, that saw her lead reach as high as 52 seconds at one point, Alicia was eventually caught near Rockville (Mile 21); and shortly after, around Hattieville (Mile 17), there was another break, as American Jadine Riley took off alone at a blistering pace, and no one could catch her. With Alicia still recovering from her long solo ride, and no incentive on the part of her American team members to chase Jadine, Kaya jumped out alone from the peloton and made a solo effort to catch Jadine.
That was the race the rest of the way to BTL Park in Belize City, where expectant fans saw the triumphant American, Jadine Riley cross the finish line alone, approximately two and a half minutes ahead of Kaya Cattouse, who rode in solo for second place.
About 5 minutes later, fans of the former champion were still treated to some excitement, as the next group of 4 cyclists coming in a sprint for third place included Alicia Thompson along with 3 Americans – Hannah Caproon, Gina Kavesh and Lori Harkey; and Alicia burned them all, to take third place.
It was a long wait for the rest of the field, which arrived just outside the 30-minute official time limit; but they brought more excitement to anxious fans, as Alicia's young teammate, Kaylynn Gillett gave a good omen for the future of Belize female cycling, as she beat 4 others, Belizeans Taralee Ordonez and Gabrielle Lovell, Mexican Miguelina Lopez and American Kelly Clarke, in a sprint to the finish, to claim 7th place.
The last female cyclist to cross the finish line was 15-year-old Paulita Chavarria (turns 16 in April), who arrived 3 minutes after the last bunch, to secure the prize for the youngest finisher.
Finishing order: 1st Place – USA Jadine Riley (MD Endurance, 3:49:43); 2nd Kaya Cattouse (C-Ray Cycling, 3:52:27); 3rd Alicia Thompson (Belize Bank Swoosh, 3:57:41); 4th USA Hannah Caproon (Amy D Foundation, st); 5th USA Gina Kavesh (MD Endurance, st); 6th USA Lori Harkey (Moose Pharmacy, st); 7th Kaylynn Gillett (Belize Bank Swoosh, 4:29:34); 8th Taralee Ordonez (Kulture Megabytes, st); 9th Gabrielle Lovell (unattached, st); 10th MEX Miguelina Lopez (Yucatan, st); 11th USA Kelly Clarke (Amy D Foundation, st); and 12th Paulita Chavarria (Chavarria Cycling, 4:32:25).
Junior/Youth category: 1st Kaylynn Gillett; 2nd Taralee Ordonez; 3rd Paulita Chavarria.
The next event on the cycling calendar is, of course, the 90th Holy Saturday Cross Country Cycling Classic. Don't miss Kwame Scott's Cross Country Watch on Wednesday night on Krem Radio/TV.
Related Articles
Share
About Author
(0) Readers Comments