C Belize, 1-0, over Police United
BELIZE CITY, Mon. Feb. 27, 2017 –When struggling FC Belize was assisted by their opponent's 89th minute own-goal for a 1-nil win over formidable Police United FC at the MCC Grounds yesterday, it was more than just an upset of sorts. True, FC Belize is having a rocky start this Closing Season, and are celebrating their first victory after a string of three losses, while Police United suffered their first loss. But the win is important to FC Belize for other reasons; it is also the first victory for the new head coach, former Premier League star, David "Manu" McCaulay, on whose shoulders the embattled Belize City team has laid its burden after losing their Brazilian coach half-way through the Opening Season, and with no financial backing, to secure a big name, experienced coach to lead the charge. Keeping the unsalaried bunch of young talents and able veterans motivated and cohesive is a challenge for anyone in charge, and Manu has, in his own quiet and easy manner, provided the stability and self-confidence the club needed to keep battling for respect in the highly competitive Premier League. The victory, though a lucky one, was still earned through hard work and stern defensive play, especially from Mexican goalkeeper Rodgrigo Vasquez, who twice stopped then league leading goal scorer Danny Jimenez in one-on-one situations. The goal for FC Belize, which came just 3 minutes before the long whistle, was from an off-target shot by, Mexican striker, Hector Martinez that was heading towards the fans by the bar, before it hit the torso of Police's Devon Makin and instead careened into the right corner past a bewildered Ethon Wagner in goal for Police. For the visiting Police United FC, who came into the MCC sporting a two-win, two-draw record, not only was their undefeated record blemished, but it was also the first loss recorded under new head coach, Aaron "Gambis" Gamboa, the erstwhile #1 Police team cheerleader and motivator, who took up the coaching reins at the start of the Closing Season. Gambis, though obviously very disappointed, took the loss in stride, realizing that his team had ample opportunities to win. Forcing a smile, he would just offer that, "That is football," implying that "lady luck" played a hand in the outcome.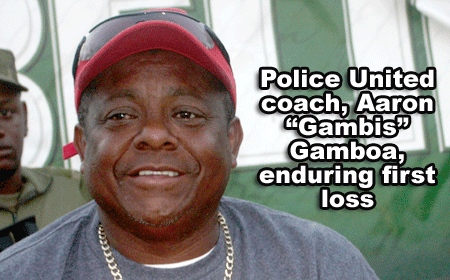 At the other end, Manu, though elated with the victory, was not carried away with any illusions of great achievement by his team. "We needed that one," confided Manu, thankful for the good fortune, and hoping that this could be a turning point in their season.
Related Articles
Share
About Author
(0) Readers Comments