Headline
— 27 October 2015
— by Rowland A. Parks
SAN JOSE, Orange Walk District, Mon. Oct. 26, 2015–On Wednesday, at a preliminary inquiry for three men accused of the brutal kidnapping and murder of Ramon Cervantes, Sr., at the Orange Walk Magistrate's Court, one of the accused murderers, Noe Gonzalez, disrupted the proceedings when he suddenly alleged that Ramon "Munchie" Cervantes, Jr., the People's United Party (PUP) standard bearer for the Orange Walk North constituency, had ordered the killing of his father.
Although the magistrate told Gonzalez that his story didn't make any sense, she said that he had a right to say whatever he wanted to at his trial.
Ramon Cervantes, Jr., is challenging the incumbent United Democratic Party (UDP) Deputy Leader, Gaspar "Gapi" Vega, for his Orange Walk North seat.
In Orange Walk north, tension "electric" between UDP and PUP supporters over "scandalous" general election signs

Vega and Cervantes already have an unfinished defamation case before the Supreme Court, stemming from a broadcast on national radio on which comments allegedly were made against Vega in the matter of the murder of Cervantes, Sr., an allegation that Vega has consistently denied, and which triggered the defamation case filed by him.
Wednesday's courtroom allegation, however, appeared to have spilled over into campaigns of the two political rivals, whose supporters clashed from early Saturday morning in the village of San Jose, located just outside of Orange Walk Town.
The UDP supporters of Vega told Amandala that the PUP had put signs on lampposts calling Vega a murderer. The signs were said to have been put up in the night.
The PUPs, for their part, said that the UDPs have produced signs with the scandalous allegations made in court by one of the accused murderers, Noe Gonzalez, that Munchie Cervantes was behind his father's murder.
Add alcohol into the mixture of "powder keg" campaign rhetoric and hatred on both sides and the results became combustible.
Shortly before 5:00 p.m., bottles were hurled at a PUP supporter's house, as the supporters of Vega, dressed in their party's color, gathered on the side of the road in San Jose Village, around Mile 64 on the Philip Goldson Highway.
Two police mobile units with heavily armed officers eventually came on the scene, and in an attempt to restore the peace, they detained a few UDP supporters.
Voustin Houchin, a teacher, was standing behind his iron gate; his driveway was littered with broken bottles.
Houchin told Amandala that he was at home washing his vehicle when the UDP supporters, who "were painting some very scandalous placards, began throwing bottles and attacking the people who were passing on the highway."
"Look at the broken pints. We were standing here and they stoned us with pints," he told Amandala.
"They [the UDPs] are the ones who are frustrated," Houchin insisted.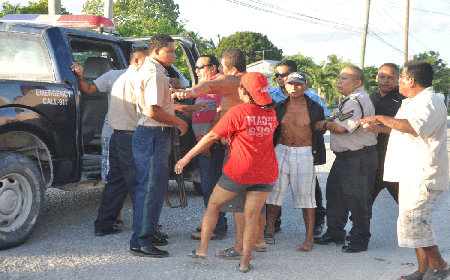 Pointing to an old man who was inside the pan of one of the police mobile units, Houchin said, "This old man is innocent. He was just passing."
Felipe Novelo, one of Vega's supporters, was visibly upset that the police had put some of his fellow UDP supporters in their vehicles and were about to take them to the Orange Walk Police Station.
Novelo told Amandala, "The PUP caused everything. Last night around 1 o'clock, they put posters on every lamppost: 'Vega asesino.'"
"The PUP caused everything," Novelo declared again.
Novelo, who was joined by others, explained that the PUP posters said, "Vega is a killer."
With about three persons in custody, the police mobile units headed back to town, as the crowd dispersed and night began to set in.
Before daylight had broken, however, between 4:00 and 5:00 a.m., three families who are supporters of the PUP were unceremoniously awakened by the police's Gang Suppression Unit (GSU) as the GSU leader, Superintendent Mark Flowers, and some of his men began to search the three homes.
The GSU claim that they were looking for guns and ammunition and said that they had "received intelligence" that guns were in the homes.
Police do not have to have a search warrant to enter a home or business place once they announce that they are searching for illegal firearms and ammunition, or illegal drugs.
The GSU search, however, did not yield anything incriminating, but there remains the suspicion among the villagers that the GSU raid was ordered from "high up" in the political directorate.
Flowers told KREM News editor Marisol Amaya that he would not comment on the suggestion that the raid was politically motivated, because he is not affected by that, since "they have a job to do and are doing it."
Flowers said they were acting on information that there were firearms in those houses.
Amandala was unable to speak to Gaspar Vega and Ramon Cervantes, Jr., about the incidents.
Related Articles
Share
About Author
(0) Readers Comments