BELIZE CITY, Wed. June 6, 2018– The graduation season has commenced, and eager students from all over the country are being,  or will soon be, recognized for their hard work during their school years.  So far, students from St. Catherine's Academy (SCA), St John's College (SJC), and Edward P. Yorke High School (EPY), have already marched up to receive their diplomas.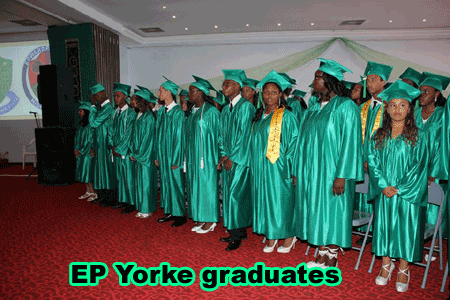 On Saturday, June 2, SCA, which first opened its doors in 1883, on the first floor of the Sisters of Mercy Convent, held its graduation ceremonies. SCA has a student body of over 500 girls, and prides itself in assisting young women to truly achieve their potential. SCA's philosophy is rooted in its Christian faith and its desire to develop students spiritually, physically, intellectually, and emotionally.
The graduation was held at their multipurpose center on Marine Parade. The school honored its top three students: Paola Ruiz, who was their valedictorian; Kenyah Hyde, who was the salutatorian, and Alexis Ayuso, who gave the vote of thanks.  The guest speaker was Tania Alamilla Mahler, a parent of SCA student, Kayla Mahler.
Ruiz, a Science major, told us that she was very proud of herself for achieving the valedictorian title because in her first year of high school, she had never set that as a goal.  She said that it was only after that, that she realized her potential to do it. She relates that the hardest part was keeping motivated, not slacking off, even when she wanted a break.
Ruiz said that she tried to go to the limits of her potential to learn all she could about her core subjects, even when it wasn't required of her. She said the most memorable things about SCA were the lessons she learnt academically, and the tips she picked up from the caring teachers.
Her future plans include majoring in psychology at St. John's College Junior College (SJCJC), and then attending school in Mexico. Ruiz says she hopes to enter into an exchange program at Mexico in order to get her Master's Degree in Spain, which has always been a dream of hers.
Hyde gave a very moving speech, emphasizing the students' journey from first form, and the relief they felt knowing that they made it to graduation.
St. John's College (SJC) held their graduation on Sunday morning, June 3, at their gym on Princess Margaret Drive.  SJC was founded in 1887 by Father Cassian Gillett, a Jesuit priest who visited Belize in the 1880's. At the time of the school's opening, there were only twelve students. Today, it is the center of instruction for hundreds of boys, and its purpose is "to aid personal growth through education." SJC remains a Jesuit school deeply founded in the values of the Roman Catholic religion. The school provides a wealth of courses for students, including Art at their Art Center, which also allows students from other schools to study Art.  A hundred and seventy four students graduated from SJC on Sunday — the school's highest number of graduates ever. The top three students were Henrique Williams, Irteza Alis and Jordan Can.
In an interview we had with Can, an Arts and Science major, he stated that "it feels great to be graduating because you're finally finished with a huge step in life. We worked really hard and it finally paid off in the end, and it's such a relief to finally leave the school and start a new chapter in our lives." He plans to continue his studies at SJCJC.
The other speakers at the graduation echoed Can's sentiment about their journey at SJC, and how grateful they were to the people who helped them achieve their diploma. According to Can, "the best thing about [SJC] was the support you would get from some of the teachers. They would genuinely believe in you and try to help you, and they would do their absolute best so that you're prepared for the future, such as CSEC exams."
E.P. Yorke's graduation was also held on Sunday, June 3, in the afternoon, at The Ramada Princess Hotel. The number of graduates from the school this year is 125, and even though this year's graduating class is not the largest group of graduates from the school, all the students who had started first form at the school were able to graduate.
The top three students were Ashton Tillett, Alexandria Fermin, and Miki Yanai. According to Tillett, a Science major, being valedictorian was an exciting experience for him, and he feels that all his hard work paid off. Tillett lives in Crooked Tree village, and he said one of the most difficult aspects of his high school journey was commuting but, although the workload was tough, he succeeded because he managed his time wisely. His favorite subject is biology and he has plans to attend SJCJC and then look for scholarships to further his studies.
Tillett said that the most memorable part of EPY for him was his experiences with the teachers, who were not just interested in students' grades, but also in their well-being, and how they were developing as young men and women.
Tillett had also excelled in primary school by getting the highest score on the Primary School Examinations (PSE) in 2014.
Although EPY opened its doors many years after SJC and SCA, with 144 students in 1969, it has made strides in becoming one of the most acclaimed schools in the country. Previously known as Belize Junior Secondary School No. 1, EPY opened a way for the children of families that were not so financially well off to be able to attend a top-quality high school. EPY describes itself as "a co-educational institution based on a firm foundation of discipline, charged with the responsibility of providing opportunities for all students regardless of race, religion or socio-economic background to recognize their self-worth and abilities."
The guest speaker at EPY's graduation, Mrs. Kim Simplis-Barrow, spoke about her own humble beginnings and the challenges she faced in her life, in an effort to encourage the graduates to realize their own potentials.
We will be following graduations from other schools as they take place.
Related Articles
Share
About Author
(0) Readers Comments