BELIZE CITY, Wed. Nov. 8, 2017–On Christmas Eve last year, Alfonso Noble, the editor of the ruling United Democratic Party's newspaper organ, The Guardian, and co-host of the government-owned radio station WAVE, allegedly knocked down and killed Gilbert Myers as he was riding his bicycle toward his home in Hattieville. Noble was traveling in the same direction, heading to his home at Mile 8 on the George Price Highway.
Neither of them made it home for Christmas. Meyers died from the impact of Noble's pickup truck, and Noble, because he failed to provide a specimen to police, spent the long holiday weekend in police custody at the Racoon Street Police Precinct.
Today, Noble reportedly settled with the wife of his accident victim, Andrea Meyers, who reportedly will be paid a six-figure sum by Noble's insurance company, RF&G.
The settlement was brokered by the law firm of Musa and Balderamos, who represented Mrs. Meyers.
This settlement of the civil claim that was filed against Noble in the Supreme Court does not mean that he is out of the legal woods. He still has to answer for indictable offences before the court, and must also face a preliminary inquiry pending at the lower court.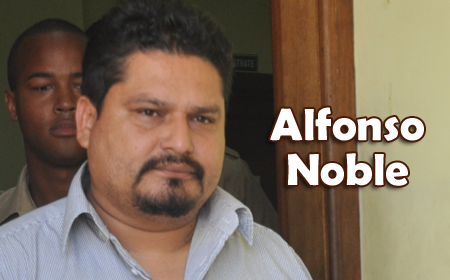 The outcome of the preliminary inquiry will determine if there is sufficient evidence against him for the case to be sent to the Supreme Court for trial.
Police had charged Noble with manslaughter by negligence, causing death by careless conduct, driving a motor vehicle without due care and attention, and failure to provide a specimen for testing.
The accident occurred between Miles 3 and 4 on the George Price Highway. Noble was socializing in Belize City with friends before he entered the highway in his pickup truck.
Noble is due to return to court on January 24, 2018.