BELIZE CITY, Thurs. Oct. 26, 2017-On Saturday night, October 21, a 60-foot yacht, Amador, owned by Guatemalan singer Carlos Peña, ran aground on the reef near South Water Caye. Peña was onboard his boat, which was being captained by Gustavo Aleojos Andres Jansa and another unnamed crew member.
There were 10 passengers onboard the yacht when the incident occurred some 21 miles southeast of Dangriga Town.
Exactly where the Amador was heading is not known.
The singer used his Facebook page to send out distress signals and the yacht was eventually towed off the reef. No injuries to any of the passengers were reported.
The relevant authorities in Belize, however, did not issue any press release to inform the public about the incident.
Just before press time tonight, Amandala spoke with Government Press Officer Dorian Pakeman, who told us that he was not aware of the incident. Pakeman said to call him back in half an hour, but when we did, there was no response.
Reportedly, one of the yacht engines failed, causing it to drift and run aground on the reef.
In the event of a maritime accident, a task force would normally be formed to assess damages to the reef. This task force would be made up of personnel from the Department of the Environment, Belize Coast Guard, Port Authority, and the Fisheries Department.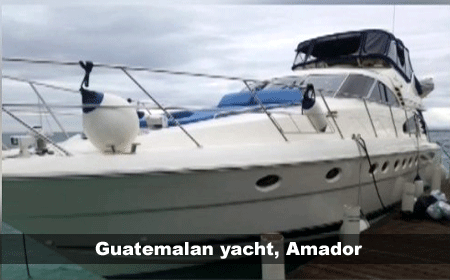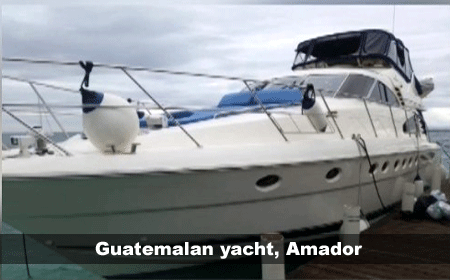 With the Belize Coast Guard looking on, the yacht was towed from off the reef and Peña was allowed to leave.
So far, there has been no report from the authorities about the damage to the reef, or whether the Guatemalan singer would be held accountable.
Coast Guard Commander Elton Bennett told one local media organization, "The vessel had run aground near Caribou Caye. That is about 21 miles southeast of Dangriga. Onboard were 10 persons — 8 passengers and 2 crew members. We immediately deployed one of our Coast Guard vessels that were in the area. When we arrived on the scene, I noticed there were two vessels towing the vessel off the reef.
"Therefore, we acted as observers to ensure that all safety measures were kept, and we continued patrolling the area and we discovered that all persons onboard were safe."
The Coast Guard Commander went on to say that the incident was minor, and that the vessel was legally in Belizean waters. There was no need to detain the vessel, he said, because the owner could be reached, in case of any charges for damages to the reef.
He also did not release the names of the vessels that towed the yacht off the reef.