Features
— 03 July 2015
— by Adele Ramos
BELIZE CITY, Tues. June 30, 2015–Information just received from the Ministry of Health indicates that the number of new HIV infections recorded in Belize for 2014, totaling 221, was the lowest since 1998, when 184 new cases were recorded.
According to the TB, HIV/AIDS & other STIs 2014 Statistical Report, this represents a decrease of 20% when compared to 2013 data.
"This continued trend of decreasing new infections reported as of 2007, in light of continued increasing total number of tests being done, highlights the relative success of the programme in the scaling up of its strategies and efforts," the report said.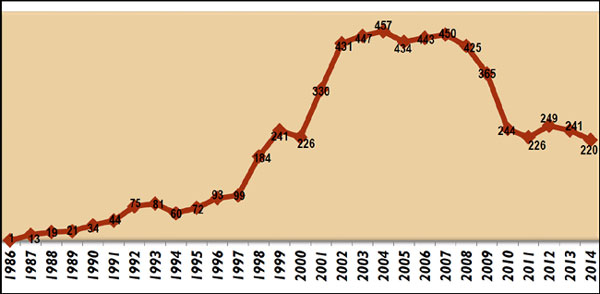 Of note is that HIV transmission among homosexual males exceeded transmission among heterosexuals. The data indicate that more than 65% of the new HIV cases were in men who have sex with men (MSM), some of whom also transmitted HIV to their female partners.
The second largest affected group are heterosexuals who have casual relations (roughly 22%), and the third largest are heterosexuals in stable relationships (accounting for less than 10%).
"For the third year in a row, the Belize and Cayo districts have higher rates than the other districts and the efforts to curtail the epidemic must, therefore, be further scaled up and concentrated in these two entities," the health report said.
The report also reveals that a significant portion of persons who had tested positive for tuberculosis during the year were also infected with HIV.
About a third of the persons with TB also had HIV. Of the 72 persons who tested positive for TB, 63 were screened for HIV and 25 of those (or 39.7%) were HIV-positive.
No babies contracted HIV from their mothers during the year. The report added, "…we have zero cases of vertical transmission in babies born in 2014 and this would be the first year that Belize is reporting this as zero."
HIV tests were administered to nearly 7,000 pregnant Belizean women in 2014, and among them 17 new HIV cases and 34 previously known cases were recorded, for a total of 51 cases.
The prevalence of HIV among men who tested in 2014 was twice the prevalence among women. Although 119 of the new cases were among men and 102 of the new cases were among women, almost twice as many tests were administered among women, 20,538, than were administered to men, at just over 10,725.
The statistics reveal that 79 persons died from HIV/AIDS in 2014 — 51 males and 28 females.
Related Articles
Share
About Author
(0) Readers Comments