BELIZE CITY, Wed. July 27, 2016–Whereas the Caribbean has seen a 9% rise in the number of new HIV cases, the incidences have increased far more in Belize—by more than 20% from 2010 to 2015, according to the Prevention GAP Report (2016) recently published by UNAIDS. The report noted that Belize is in fact among the countries with the highest rate of increase, ranking 4th among 27 and well above the regional average.
"Among adults in Latin America, the annual number of new HIV infections has slowly risen since 2000, reaching about 91,000 [76,000–109 000] in 2015. Increases were greatest, above 20%, between 2010 and 2015 in select countries in Central America, including Belize, Nicaragua, and Guatemala," the Prevention Gap Report said.
It added that, "Steady albeit smaller increases were observed for the same time period in Mexico and Panama (8%), Chile (6%), Colombia (5%) and Brazil (4%). Among adults in the Caribbean, years of steady declines in new HIV infections between 2000 and 2012—primarily due to early prevention efforts in Haiti—have slowed and then reversed in recent years."
According to the report, the Caribbean reported 9,000 new HIV infections in 2015. Dr. Edward Greene, United Nations Secretary-General Special Envoy for HIV in the Caribbean, speaking from Durban, South Africa, where more than 18,000 scientists, practitioners and members of civil society are meeting at the 21st International AIDS Conference, which opened on July 18, said that it was necessary for a thorough analysis of the causes and direction of the prevention gap.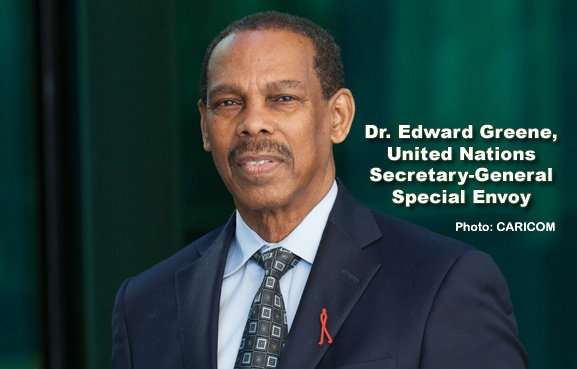 Inadequate attention to testing and treatment, including late testing of people with HIV; the lack of care centers, and the decrease in the rates of retention of infected people in care were among the concerns he cited.
Stigma and discrimination against persons living with HIV has also been highlighted as a primary problem affecting care and treatment of individuals living with HIV/AIDS.
Enrique Romero, executive director of the National AIDS Commission (NAC), told Amandala in a recent interview that one of the biggest barriers for people accessing healthcare services is the whole issue of stigma and discrimination.
"If you look at the new sustainable development goals, there are 17 goals under the SDGs and the theme for the SDGs is leaving no one behind," he said.
The NAC has recently completed its strategic plan, which, he said, is aligned with the UN's 90-90-90 goal, which is a reflection of leaving no one behind.
"The objective is by 2020, 90% of people living with HIV and AIDS will know their status, 90% will be linked to care and retained in care and 90% will have a viral load suppression," Romero told us.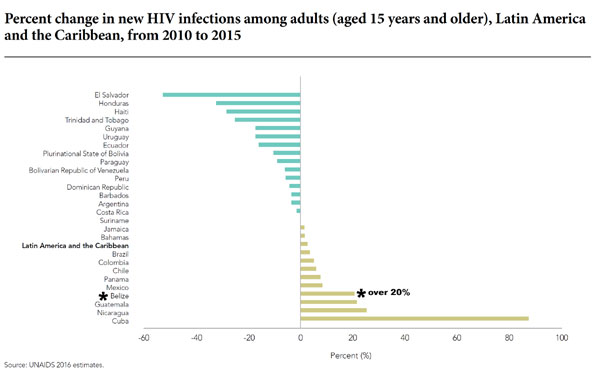 He said that NAC, through its partners, has been engaging in several activities geared towards creating public awareness to reduce stigma and discrimination.
Last month, NAC led the observance of Regional Testing Day in Belize, in collaboration with partners in Belize and from the wider Caribbean region.
One of the aims of that event was to draw more men in for testing, as there is significant gender disparity in testing among males and females.
The Prevention Gap Report estimates that there are 3,500 people living with HIV in Belize—up a few hundred from 2010—and about half are on anti-retroviral therapy.