Armed thieves broke into the elderly couple's home and stole a range of items
RANCHITO, Corozal District, Tues. Oct. 31, 2017–The home of an elderly couple in Ranchito was invaded by two armed thieves, for whom police are searching.
At about 1:00 this morning, Michael McGee, 70, an American retiree, and his wife, Janet McGee, 68, were sleeping in their house when two armed, masked men gained entry into the home. The criminals bound the couple with duct tape and forced the couple to lie on the floor, and they then stole a number of television sets, computers, Janet's diamond wedding ring and Michael's wedding ring. They then stole everything they could carry, and anything they could put in the couple's 2003 Dodge Ram pickup, which they also took from their victims.
The value of the pickup has been estimated to be $29,800, and with the inclusion of the value of the other goods taken by the robbers, the total loss suffered by the couple is approximately $46,585.
Michael McGee said that the ordeal with the bandits lasted about two and a half hours, and that the two robbers were armed with 9mm pistols. They were dressed in hoodies with long sleeves, with black masks on their faces, long pants, and one of them was barefooted.
McGee said that when the robbers ordered them to lay face-down on the floor, his wife suffered great discomfort, because she recently had a surgery on the neck, and lying on the floor caused her pain.
They threatened to kill them several times, said Michael, and one of the thieves held his gun in front of Janet's nose. He told her, "If you make a sound, I will kill you."
The thieves told them that they wanted money or valuables that they could sell to get money, and that they needed at least $5,000.
After they got what they wanted, the thieves demanded the keys for the couple's pickup, packed their loot in it, and drove away.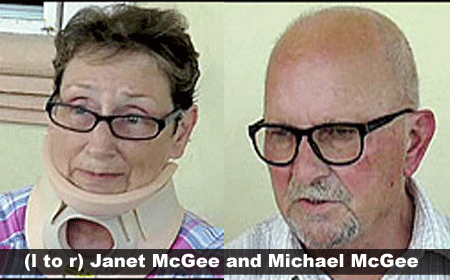 Luckily, no shots were fired, and the couple was not injured.
About 30 minutes after the thieves had left, Janet said, she managed to free her hands and remove the duct tape from her mouth and eyes. She then freed her husband, and they alerted the police.
Michael McGee said that the bandits gained entry into their house by breaking a lock on one of the doors, but they had heard nothing. The thieves were already in their bedroom, standing over them, before they were aware of them.
Police are looking for the stolen Dodge Ram pickup and are trying to recover the stolen possessions.