BELIZE CITY, Mon. Feb. 29, 2016–A homeless man known as Danny, who hangs out at the corner of Cemetery Road and Euphrates Avenue, was found lifeless in the cab of a pickup in which he usually sleeps and which is usually parked on Cemetery Road in front of Kevin's Store.
Danny, 60, originally from Trinidad, was found by his friend, Eric Pandy, at about 1:00 this afternoon. Eric awaits the post-mortem exam to certify the cause of death.
Pandy told Amandala this afternoon that at about 10:00 last night, Danny was drinking the rum known as "Red top," and he was drunk and falling down. Pandy helped Danny cross the street in front of the store at the corner of Euphrates and Cemetery Road, and helped him into the pickup cab so that he could go to sleep. After making sure that he was OK, Pandy went home.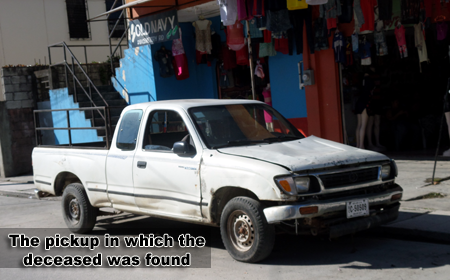 Pandy said that he usually gives him food, but Danny did not come to his house this morning, and after waiting for him to come, Pandy began to look for him. When Pandy went to the pickup he saw Danny motionless in the cab.
Pandy said that he believes that no one harmed Danny, but that he loved the rum called Red Top. He strongly believes that excessive drinking caused Danny's death.
Pandy told us that Danny was a veteran of the United States Army. He said that sometimes several of Danny's friends would sleep with him in the pickup after they had been drinking.
Related Articles
Share
About Author
(0) Readers Comments