SAN IGNACIO–   Following the bombshell resignation of Joseph Mahmud, Cayo North area representative for the Opposition People's United Party (PUP), on Monday morning, the party plans to convene an emergency meeting at 10:00 Friday morning, November 28, in Belize City, to determine which political hopeful will be endorsed to run against the United Democratic Party's candidate, Omar Figueroa, when 6,584 voters are called to go to the polls on Monday, January 5, 2015.
That's a little over 5 weeks away, and one of the PUP's aspirants, Richard Harrison, a businessman originally from San Ignacio, Cayo, told us today that the PUP will be ready for the election.
On Tuesday, the Government of Belize announced that a writ of election had been issued for the January 5, 2015 by-election and that nomination day will be held on Monday, December 15, 2014 at the Administration Building in San Ignacio, Cayo.
Julius Espat, deputy leader of the PUP and head of the party's western caucus, told Amandala today that the executive of the PUP will decide on Friday, who will be their candidate for the by-election.
He said that the caucus has already voted, and they voted unanimously to cancel the convention which would have required a vote for them to decide whether Harrison, or the other PUP hopeful, Michel Chebat, SC, an attorney, will run for the Cayo North seat.
Espat would not disclose the outcome of the vote by the western caucus to determine which of the two candidates they will recommend for nomination in December.
Espat said that both Harrison and Chebat are two good candidates, both originally from San Ignacio, both credible, but he added that in times of crisis, the leadership has to make a decision.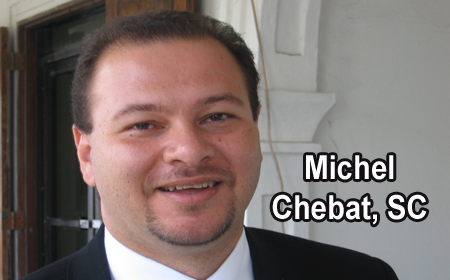 They are looking for a fearless leader who is a PUP at heart and willing to accept advice from the leadership of the party and make a decision that might allow him to win, Espat added.
However, he conceded, in speaking with us that, "the chance of winning is not good." He told us that the Prime Minister and his wife have already moved to their residence in Cayo, to commence the battle for the seat.
"We understand in our hearts that it is a difficult situation that we are facing. The Prime Minister has done what he has done, to put us in this situation. That's a fact. That does not mean it can't be [won]," said Espat, decrying the decision to call the by-election quickly and right after the New Year's festivities, celebrated annually on January 1.
He went on to add, though, "…if we play our cards right, we have a fairly decent chance."
The Cayo North constituency, with over 6,000 voters (3,286 males and 3,298 females) as of September 2014, includes, according to Espat, Bullet Tree and the Red Hills, the Cahal Pech area, Joseph Andrews Boulevard and the area in which Espat said the Prime Minister is staying (although his official residence is in Belize City), which is the heart of the San Ignacio area.
"We will never be able to challenge the UDP when it comes to money. They are rolling in serious money, as you know, but we have to put up a very strong, spirited campaign with the resources we have and we believe we can do that," Opposition Leader Francis Fonseca told the media earlier this week.
Fonseca chided Mahmud for his decision to vacate the seat well ahead of the 2017 general elections, which, he said, demonstrated disrespect for his party.
Mahmud had resigned as standard bearer for the PUP last month, but had indicated to his party that he would retain the seat for the next two and half years. There is still no official word to explain why Mahmud gave up more than $6,000 a month (in salary and other benefits allotted to him as area representative) by resigning. While sources close to him have said that his resignation was triggered by frustration over internal conflicts, Mahmud has been tight-lipped, saying only that he has resigned due to "personal reasons."
"I think his decision to [resign] without consulting the party, without informing the party, without informing his executive in Cayo North, I think, reflects poorly on him and I view that as disrespectful to the party," Fonseca commented.
On Tuesday, Mahmud issued a one-page statement, thanking his supporters. The fact that his release does not even mention the PUP is glaring.
In fact, Mahmud says that, "…I have worked very hard and everything I have done in my area and for you the people, I did it on my own and from my heart without prejudice" – hinting at a lack of party support and a level of fall-out with the PUP, which Mahmud has declined to discuss with us.
The ruling party has had its man, Omar Figueroa, a Belizean scientist, elected as its standard-bearer since February 2014.
Harrison told us that Cayo North "has never been an easy seat for the PUP," but, he said, they have been working in that division for the past week and a half, since he accepted an invitation from party officials to participate in the bid for the PUP candidacy.
We asked Harrison what would be his stance if the PUP were to choose Chebat over him, to run in Cayo North. He said that he will remain committed to the PUP, and he believes that the PUP officials who will meet to make their decision tomorrow will listen to the will of the people in Cayo North.
Amandala tried to contact Chebat for his comments, but we were unable to reach him on the listed cell and office numbers.