Headline
— 31 January 2018
— by Rowland A. Parks
Robert Brown, 37, remanded
BELIZE CITY, Mon. Jan. 29, 2018– On Friday night, social media was abuzz with news of a stabbing murder in the Vista Del Mar area of Ladyville, but as the reports of what had transpired became clearer, it became apparent that the murder may have been a crime of passion.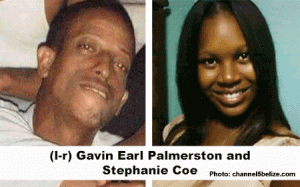 The family of the man accused of murder, Robert Brown, was at the Magistrate's Court all morning waiting for police to bring him to the court.
Police brought Brown late in the morning, but took him back until the afternoon session of the court when he appeared before Magistrate Michelle Trapp, along with his attorney, Kareem Musa.
Brown is a resident of Ladyville and is a heavy machine operator.
Magistrate Trapp read to him the single count of murder, which stated that on Friday, January 26, "you murdered Gavin Earl Palmerston, in Ladyville, in the Belize Judicial District."
After reading the charge to Brown, 37, Magistrate Trapp asked him if he understood what she had just read to him.
Brown indicated that he understood.
Magistrate Trapp then informed him that her court could not offer him bail for the offense of murder, and that he would be remanded to the Belize Central Prison until his next court date, March 28.
This morning at their press briefing, police told the media that they were called to 123 Barrier Reef Drive, in Ladyville, where they saw Palmerston, 41, with multiple stab wounds in the back. He was lying in a pool of blood.
Brown, the police informed the media, had turned himself in on Saturday morning and was arrested and charged for the murder on Sunday.
Police said that according to their initial investigation, Brown had gone to a house where his ex-common-law wife was staying with a friend.
Police identified the woman as Stephanie Coe, 26.
At the house, Brown and Palmerston got into an altercation that resulted in Palmerston sustaining the stab wounds that led to his death.
Brown's family members indicated that he had gone to the house to see his young son that he has with Coe.
 Information to Amandala, however, is that Brown and Coe had been separated for about a week and she was staying with one of her female friends at the Barrier Reef Drive address where the murder occurred.
Amandala has learned that when Coe first moved out of the house she was sharing with Brown, another friend had offered her shelter, but that was only for a short time, because the friend was of the view that sheltering Coe was potentially troublesome.
Related Articles
Share
About Author
(0) Readers Comments