Headline
— 07 March 2018
— by Rowland A. Parks
Everal Martinez, 21, arraigned on 4 sexual offences; cops say that because of child's death, more charges are forthcoming
BELIZE CITY, Mon. Mar. 5, 2018– This morning in the Belize City Magistrate's Court, Senior Magistrate Aretha Ford read four charges to Everal Martinez, 21, the stepfather of Baby Alyssa Nunez, 17 months old, of Maskall, who died in the Karl Heusner Memorial Hospital (KHMH) yesterday, Sunday, at around 4:00 a.m.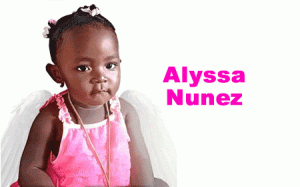 Alyssa had been admitted in a critical state and had been placed on life support.
All four offences for which Martinez was charged are said to have occurred on Wednesday, February 28, in Maskall, in the Belize Judicial District.
Police charged Martinez with attempting to penetrate the anus of a child under the age of 16, to wit, 1 year and 5 months old. Martinez was also charged with attempting to penetrate the vagina of a child under 16 years old.
He was also charged with intentionally attempting to penetrate the anus of a child with a part of his body other than his penis, and intentionally attempting to penetrate the vagina of a child under the age of 16. Both charges were worded "without her consent with a part of your body other than your penis."
These sexual offense charges carry a prison term of 12 years each upon conviction.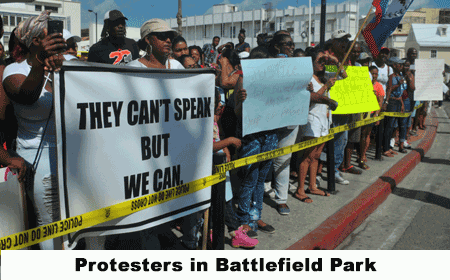 Director of Public Prosecution (DPP), Cheryl-Lynn Vidal, S.C., appeared in court for the Crown and attorney Oscar Selgado appeared for the accused, Martinez.
Magistrate Ford explained to Martinez that he has been charged with four offences which are indictable, and as such, she would not take a plea from him.
After the four charges were read to Martinez, DPP Vidal addressed the court, saying, "We are asking that the accused be remanded. There will be no application for bail, due to the seriousness of the offences and the outcry from the society. The victim has since passed away, and there is a serious charge to be laid against the accused in the next few hours."
Martinez's attorney, Selgado, also addressed the court briefly, informing that "the defense will not be making an application for bail, because the victim has since passed away."
DPP Vidal said that the charges that have been brought so far address only the sexual offences allegedly committed by the accused.
"The post-mortem in relation to the deceased will be conducted at 1:00 p.m. this afternoon, and after that post-mortem, we will be determining the next charge to be laid, and hopefully, we will still be in a position to lay that charge today," said DPP Vidal.
After the sexual assault upon baby Alyssa became public, there were widespread expressions of outrage on social media, which grew more strident when it was confirmed that baby Alyssa had died yesterday in the KHMH, where she had been admitted in critical state and had been placed on life support.
By 9:00 a.m. on Sunday, the news of baby Alyssa's death had triggered a spontaneous protest with protesters marching along Central American Boulevard, all the way to Battlefield Park.
The area around the Belize City Magistrate's Court this morning had been heavily cordoned off with police metal barriers, and several detachments of specialized police, including the Gang Suppression Unit, were manning the barriers, as police prepared for another wave of protesters who began arriving in Battlefield Park, on the Regent Street side overlooking the court buildings, around 9:00 a.m.
The protesters, some carrying placards, were demanding justice for baby Alyssa, who had been fatally hit in the head and sexually assaulted, allegedly, police say, by her stepfather, Martinez, in whose care she had been left.
Terrence Nunez, the father of baby Alyssa, told Amandala that he had no idea that the child's stepfather would have perpetrated such a heinous crime on his daughter. He said that the baby's mother would be in a better position to know if Martinez had exhibited any tendency to molest his daughter, "but she is always hiding things from me," he said.
Moses Sulph, one of the organizers of the protests, told Amandala, "Many of these young mothers need to take responsibility for their children. We as a society must get involved, if we see anything happening to children. We must send a message to anyone who would violate our children that this will not be tolerated. The laws against this kind of thing have to be strengthened," Sulph added.
A mother of two children, Cindy Jones, 33, and one of the protesters, told Amandala that she came out for the protest because, she said, "I feel it as a single mother of two." "I don't have any daughter, but I have a niece exactly her age, so I just feel it," Jones remarked.
The public's anger and frustration found outlet through a number of organizations such as the National Trade Union Congress of Belize (NTUCB), which issued a press release which stated that it "strongly condemns any form of physical, emotional or psychological abuse of our children and women". "We make specific reference to the case that occurred last week which resulted in the death of a 14-month-old baby girl," the union said.
NTUCB urged legislators to amend applicable laws to provide "for stiffer penalties on conviction for such heinous acts."
"Today it is this child, and tomorrow it could be yours," ends the release.
The People's United Party (PUP), for its part, says that it "joins Belizeans in grief, anger and outrage as we mourn the brutal murder of Baby Alyssa. The media has reported that the child, only 17 months old, had bruises on her tiny little body …This heinous, reprehensible act must be condemned by all."
"Gender violence is real in Belize. Our women and girls are the most vulnerable to abuse, sexual assault and rape. This horrific tragedy has caused the nation to seriously look inward at our culture of misogyny, domestic violence, gender violence and abuse of our girls and women.
"It is very difficult to comprehend how anyone can inflict such pain and abuse on a 17-month-old baby", stated the party's release.
A release late tonight said that the post-mortem revealed that the child died from massive brain hemorrhage due to head trauma.
Related Articles
Share
About Author
(0) Readers Comments