The West Indies has a long and proud tradition of cricketing greatness with deadly fast bowling, explosive batting performances and strategizing genius. Today, Sunday, April 3, the West Indies Men's Team won a magnificent victory beating England by four wickets, with a score of 161(runs)/6(wickets),to raise the championship trophy of the International Cricket Council's World Twenty-Over Tournament final in Eden Gardens, Kolkata, India. Marlon Samuels, Man of the Match, steadied the ship of the West Indies' batting attack with a brilliant contribution of 85 runs while Carlos Brathwaite sealed the victory by masterfully launching four sixes in a row in the night sky 'beyond the boundary', when the team needed to score 19 runs from 7 balls, to bring home the championship in style and fashion.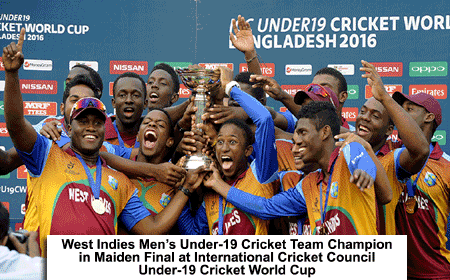 Earlier in the same stadium, the West Indies Women's Team won a historic victory in their maiden appearance in the Women's International Cricket Council's World Twenty Over Championship, beating Australia by eight wickets, with a score of 149(runs)/2(wickets), to win and bring home the championship to the Caribbean. Hayley Matthews contributed a stellar 66 runs and captain, Stafanie Taylor, brought strong support and leadership with her knock of 59 runs in this key partnership of the match, bringing to pass the historic West Indies victory.
It was heartwarming to see in both victory celebrations, men's and women's teams sharing the field, dancing in solidarity and joy.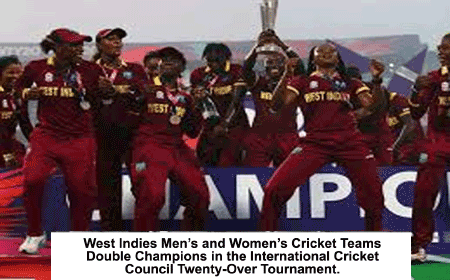 This is West Indian unity in the heart. This is Caribbean greatness at its best. Two disciplined, focused and explosive teams delivering clutch performances at the highest level on the world's biggest stage. This is the excellence that energizes the Caribbean and launches it into the light of its future, the fire of creation. It is a fire that was proudly on display when, on 14 February 2016, the West Indies Under-19 Men's Cricket Team won their maiden International Cricket Council's Cricket World Cup, beating India by five wickets with a score of 146(runs)/5(wickets) in the final with young flames Keacy Carty, Man of the Match, hitting 52 runs not out and Keemo Paul knocking 40 runs not out, winning the championship and establishing the first of what was to be three triumphant championship victories for West Indies cricket.
The West Indies is on fire. The Caribbean is a circle of fire creating future visions. CLR James would have been proud to see this and I know he is smiling in the heavens. Congratulations to all three teams on this display of greatness. Your discipline, skill and focus have brought joy and sweetness to the Caribbean. Long live West Indies cricket. Long live the Caribbean. Rejoice, Caribbean people. This is the fruit of your fire. Rejoice! Rejoice! Rejoice! God bless.
Love,
Sean Taegar.
Sunday 3 April 2016
Belize City, Belize