He is accused of fatally shooting Jose Villanueva, 50
BELIZE CITY, Mon. June 18, 2018– This morning, Manuel Pacheco, a jeweler and resident of 5 Cockburn Lane, walked out of the Magistrate's Court holding cell covering his face as he was led by court police to the courtroom of Chief Magistrate Sharon Fraser for arraignment on a charge of murder.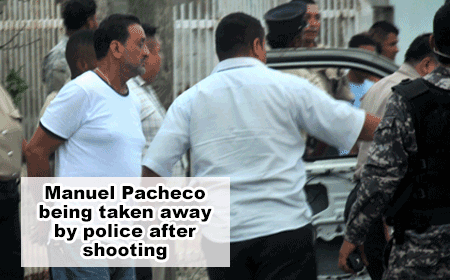 "Mr. Pacheco, da your turn," Chief Magistrate Fraser said to him, as he jumped to his feet.
After the proceedings began, Pacheco told the court that he is 57 years old, but Chief Magistrate Fraser pointed out to him that he would be 57 in the next four days, because his birthday is June 22.
Chief Magistrate Fraser read the charge to Pacheco, which stated that he "intentionally caused the death of Jose Villanueva on Thursday, June 14," and she also informed him that, because murder is an indictable offence, she could not take a plea from him, and he could not be granted bail.
Pacheco is being represented by attorney Dickie Bradley.
In a few minutes, the arraignment was over, and Pacheco was again handcuffed, his hands in front, which allowed him to walk with his face covered so that court reporters could not take his picture.
On Thursday, shortly before 6:00 p.m., Pacheco reportedly got into an altercation with businessman Villanueva, who lives on East Collet Canal, nextdoor to where Pacheco's Jewelry shop is located.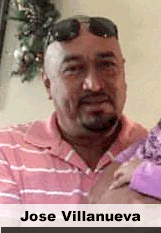 During that altercation, Pacheco pulled out his licensed 9mm handgun and shot Villanueva multiple times, said police.
In the brief police facts that were attached to the court book, it was revealed that police, acting on information received from their control room, dispatched CIB officers to 68 East Collet Canal, where they found Jose Villanueva lying on the ground with gunshot wounds in the left arm, right upper arm, left side of his back, and the right side of the abdomen.
The brief police facts indicated that Villanueva and Pacheco got into an argument and Pacheco took out his licensed firearm and inflicted the injuries to Villanueva.
Police said scenes of crime technician Daniel Daniels retrieved 4 expended 9mm shells from the scene, and recovered a 9mm Ruger brand pistol that was loaded with 7 rounds.
This is where the information that the police provided gets confusing, because the brief facts indicated that a Glock 9mm was retrieved from Manuel Pacheco. The police did not, however, say whether there was any ammunition in the Glock or whether it was recently fired.
The brief facts also stated that police recorded one statement from an eyewitness and video surveillance footage was "viewed and obtained."