Headline
— 25 April 2018
— by Courtney Menzies
BELIZE CITY, Mon. Apr. 23, 2018– Over the years, Dario's meat pies have become a beloved part of Belize City's lunchtime cuisine. Dario Hernandez, 79, has been selling his signature meat pies for over 35 years. Unfortunately, on Saturday, April 21, Hernandez passed away at 8:45 p.m. He had apparently been suffering from stage 4 type 7 cancer since last September.
Brent Hernandez, Dario's son, told Amandala that his father had a humble beginning, leaving Holy Redeemer Primary School after only completing standard three, and starting to sell pastries that his mother would bake in their home at #2 Cards Alley. In the late 1940's, he would ride his bicycle through the streets, selling pastries such as honeybun, Spanish cake, and polvoròn.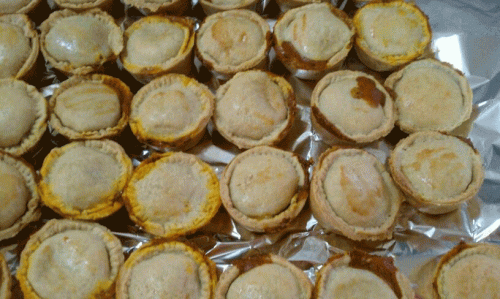 After his mother became too old to bake in the 50's, Hernandez continued in her footsteps.
In 1961, after Hurricane Hattie, Dario worked in the construction of houses in Belize. After his family home was rebuilt in the mid 60's, he continued to bake, selling his pastries at St. John's College (SJC) during the day and at Mike's Club at night.
After the demand for his products grew, Dario started renting ovens and then partnered with Reyes Bakery.
Eventually, while Dario Hernandez was still selling at St. John's, it was suggested to him that he start selling from inside the compound. This led to SJC's first canteen being built, where Hernandez sold "greasy greasy," "hard-time" biscuits and his famous honeybun.
After Reyes moved to Orange Walk in the late 70's, Hernandez opened the first official Dario's bakery at the corner of Mapp Street and Cleghorn Street. Between the end of the 70's and the early 80's, Hernandez opened his doors on Hyde's Lane, where his bakery is still currently situated.
It wasn't until the mid-80's that Hernandez made the transition into making meat pies. Once he began selling them at the primary schools, the demand became so great that there wasn't time to bake anything else. Thus, Dario's meat pies were born, and are still a huge success with Belizeans living at home and abroad.
Brent Hernandez said that his father was always willing to help anyone, even by giving money out of his own pocket. He always told his children that their family was blessed, and they should be happy to be able to help other people.
Brent also described his father as being a humble, wise man who enjoyed a peaceful life. He had six children, one daughter from a previous marriage who resides in New York, and five children with his wife, Ofelia Hernandez.
His oldest child, Nichole Perdomo, and the two youngest, Christy and Brent Hernandez, have been working together and managing the bakery for over four years.
According to Brent, the funeral will be held at Holy Redeemer Cathedral, and his father will be buried at Homeland Memorial Park. There will be no wake and no repast.
Related Articles
Share
About Author
(0) Readers Comments