BELIZE CITY, Thurs. July 23, 2015–The potentially devastating medfly fruit pest, the Mediterranean Fruit Fly, was discovered in southern Belize last week, and the Belize Agricultural Health Authority (BAHA) has triggered eradication activities in Hopkins, Stann Creek and on the Sapodilla Cayes, stripping all possible fruit hosts—mostly tropical almonds, craboos and mangoes—from trees within 250 square meters of where the pests were discovered, in an effort to prevent a population explosion which could have dire consequences for the agricultural sector.
"All it takes is one infested fruit," said BAHA's medfly coordinator, Hernan Zetina, who has visited the area where the medflies were discovered by BAHA staff who monitor traps on a weekly basis.
A press release issued by BAHA says that, "Belize is the only country in the region that is free of this pest, and it is only when infested medfly hosts, such as fruits and vegetables, are brought into Belize illegally that this pest is introduced."
Four medflies were trapped on the Sapodilla Cayes, specifically on Franks Caye, Hunting Caye and Lime Caye; while 3 were trapped in the Hopkins area.
Zetina said that someone may have brought fruit from Guatemala or Honduras, where medfly infestation continues to be a problem.
He noted that there are excursions of people who come from Guatemala and Honduras, especially to Lime Caye, and people who visit the area must take their food supplies, which very likely include fruit and vegetables that could be infested with medfly larvae, or "worms."
Someone eating the fruit and discovering that it is infested may unwittingly discard it on the ground, not realizing that there may be other larvae in the fruit which can propagate, giving rise to hundreds of flies within a short space of time, since the lifecycle of the medfly is a mere 30 days, Zetina explained.
He told us that the first 2 medflies were discovered on Tuesday, July 14, and BAHA field staff went down to Stann Creek on July 15 to implement their emergency plan.
"We did a site evaluation looking at potential host fruit and began fruit stripping," said Zetina.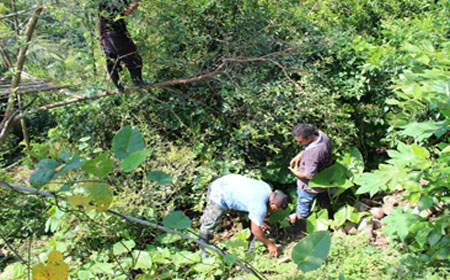 He said that the stripped fruit are destroyed by burying. The second prong of the intervention is spraying with an organic insecticide, the active ingredient of which is the bacteria, spinosad, which does not have a hazardous effect on bees and other insects, unlike malathion, which was used in the past.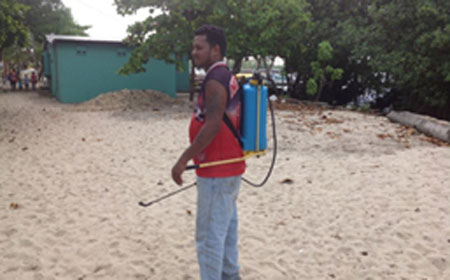 BAHA explains that a medfly infestation can also cause losses to small entrepreneurs who are unable to sell their fruits, such as mango, craboo or guavas, locally when areas are placed under quarantine restrictions.
No quarantine is currently in effect, but Zetina said that small farmers can also suffer losses if they have trees which fall within the zone that requires stripping when flies are discovered.
While some crop owners become annoyed when greeted with the sad news that their fruit have to be stripped as a part of the control program, the vast majority of persons understand and cooperate, Zetina told us. He said that they try to give crop owners and their families a chance to consume the fruit from trees marked for stripping and then to put their refuse in garbage bags to be destroyed by BAHA personnel.
Ground spraying will continue for at least 6 weeks and surveillance will continue for the next 90 days, to ensure that the eradication measures are effective. Zetina said that if they find more medflies, they will continue spraying.
The last medfly alert was issued in 2013, when a partial quarantine had to be put into effect as well as control measures for the citrus industry, along with strict fruit delivery protocols to contain and control the problem.
So far, the recently discovered medflies have had no impact on papayas, and so whole fruit export, particularly to the US market, remains unaffected. The citrus industry also remains unaffected.
BAHA urges the public to ensure that fruits or vegetables that are brought into Belize are done so with a valid BAHA import permit.