This incredible and historical three-part documentary series on Melvan "Majeli" McGregor illuminates a whole new spectrum within Belize's music world. It brings us some much missing pieces in Belize's music history as the legendary Belizean musician unravels the movers and shakers in Belizean music during the 1950's, 60's, 70's, and even the 80's some ten years later as he returned from Ottawa, Canada, playing an awesome horn.
Majeli comes back to Belize in 1979 like a Belizean prodigal son to pay tribute to two of his idols, legendary Belizean musicians and saxophonists, Pete Matthews and Bill Belisle, whom he credits for inspiring him to play jazz the way he does and to later pursue his musical career abroad digging deep into the realms of the African-American art form called jazz.
While there, Majeli met some outstanding musicians like the African-American jazz maestro, Saeed Abdul Khabeer, a devout Muslim, who took on the musically thirsty Belizean musician and made an everlasting impact on his life.
"He taught me so many things about music that will stay with me for the rest of my life," said Majeli. "That brother changed my whole musical life, and made me into what I had become after being influenced by Bill and Pete." Majeli would later express how Khabeer would tell him that he had a "big ear" because he could play anything he hears.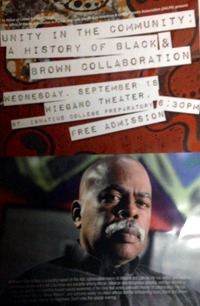 It was not possible to have been able to present the whole of this must-see and must-hear documentary series on Melvan "Majeli" McGregor in one take since he speaks a whole volume on Saeed Abdul Khabeer, his mentor and teacher in Canada. Such an incredible story of a man Majeli called "A Giant" in jazz music would be presented in the last and final part of this documentary series after Majeli brings you, the viewers, the complete Belize music history, and connects the dots in what had appeared to many to be a scrambled Belizean music spectrum that was enriched by so many powerful musical figures both past and present.
We here at Belizean Legends cherish this most long-awaited exclusive interview with a musician many of us took for granted, but who had compiled an enormous body of work in his quest for musical gold for Belize. Through his shared journey abroad to seek knowledge, Majeli took Belize with him in body, mind and soul. He represented "The Jewel" with excellence, and in completion of this feature, he mentions to me that he will soon be honored in Belize by Belize's Governor General, Sir Colville Young.
The question is, what took us so long to recognize this giant of a Belizean in music? If those like Majeli's mentor, Saeed Abdul Khabeer, could have seen that this Belizean brother was a genius of music within his own right, then we will have to recognize also those others like the late Bill Belisle and Pete Matthews in a special ceremony of Belizean legends of music. It's better late than never.
Volumes can be said right now about the life of one of Belize's best musicians ever, Melvan "Majeli" McGregor. However, we will present him to you, the Belizean Legends' audience, in living color, and let him speak his mind on how he saw the music in Belize both before and after.
Check out Belizean Legends on KREM TV for the featured documentary series on Melvan "Majeli" McGregor.
Related Articles
Share
About Author
(0) Readers Comments