Mexico gifts US$14 million to tackle catastrophic disasters
BELIZE CITY, Thurs. Oct. 26, 2017–Belize hosted a historic meeting between heads of government of CARICOM and the president of Mexico, Enrique Peña Nieto at the Best Western Belize Biltmore Plaza on Wednesday, October 25, 2017, at which the devastation recently wrought by multiple catastrophic hurricanes in the Caribbean region as well as Mexico—also hard-hit by devastating earthquakes in the recent weeks—took center stage.
Peña Nieto, who was visiting Belize for the first time, announced at the summit that Mexico will provide US$14 million to the CARICOM nations in disaster relief, to be channeled through the Caribbean Development Bank (CDB).
At the press conference at the closing of the summit, Peña Nieto, who pledged that his country will pay more attention to the Caribbean region, spoke of the declaration developed jointly by the parties at the summit which aims to strengthen cooperation in areas such as ICT, promoting Spanish as a second language, agriculture and health.
He underscored the need for the parties to work to ensure that the Caribbean region is better prepared to handle recurring natural disasters, and moreover to strengthen their ability to act even before disasters strike. He noted that in the case of the Dominican Republic, 90% of residences were recently damaged.
He announced that the parties will revisit their mechanism for bilateral cooperation, by looking at the form in which they will advance cooperation.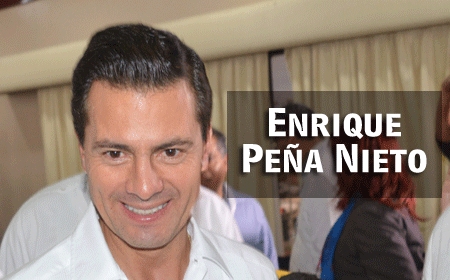 CARICOM Secretary-General Ambassador Irwin La Rocque recalled that, "It was in 1974, that Mexico became a pioneer as the first country to establish a Joint Commission with CARICOM. This heralded the beginning of a mutually beneficial partnership which demonstrated the value of South-South relationships."
The IV CARICOM-MEXICO summit followed a meeting of Foreign Ministers of visiting delegations, convened on Wednesday morning, as well as a bilateral meeting between Belize Prime Minister Dean Barrow and President Peña Nieto.
In reporting on that bilateral meeting, a statement from the Government Press Office said, "In appreciation of the excellent bilateral relations that exists between the two countries President Peña Nieto presented a full-size replica of an OLMEC Head to the people and Government of Belize. The Head was installed at the inner circle of the North Ring Road Roundabout in Belmopan."
"President Peña Nieto formally informed Prime Minister Barrow that Mexico will be supporting the opening of a secondary school in Toledo District modeled after the Escuela Secundaria Técnica Mexico in the Corozal District. He also announced the three-year programme supporting the provision of partial scholarships to 25 low-income Belizean students for studies at Escuela Secundaria Técnica Mexico.
"Mexico and Belize also agreed to continue cooperation in maritime security between the two countries. In addition to the long-term, ongoing capacity building programme provided to the Belize Coast Guard by the Mexico Naval Academy, President Peña Nieto offered support for the construction of two large patrol boats, measuring 30 meters in length for use by the Belize Coast Guard in its patrolling duties," the release added.
Ambassador Irwin La Rocque said that on Wednesday morning, Foreign Ministers reviewed the Sixth CARICOM-Mexico Technical Cooperation Programme, and discussed ways to improve on the delivery.
Around mid-afternoon, the CARICOM-Mexico summit was opened with remarks from chairman of the CARICOM Conference of Heads of Government, Dr. Hon. Keith Mitchell, Prime Minister of Grenada; Prime Minister Barrow and President Peña Nieto.
"Politically, both Mexico and CARICOM have from the beginning been staunch supporters of Belize's Independence and territorial integrity. Thus, this Summit also gives Belize another chance to make another inscription on the roll, of gratitude to both CARICOM and Mexico. It is a roll that's hung permanently in our hearts and minds as well as in the annals of history," said Prime Minister Dean Barrow.
Barrow added that, "Belize and Mexico are border states, geographically joined at the hip. But that very closeness gives rise to many challenges. Every day we face area-specific threats to our security and our peaceful way of life from organized and trans-border crime. And every day we face obstacles from epidemics, economic shocks, climate change and the resultant natural and man-made disasters we have just been painful witnesses to and victims of. And because all these problems are in fact region-wide and indeed global, CARICOM suffers the same effects as Belize and Mexico, though not being part of the same immediate geographic interconnectedness; hence, the special practical importance of this Summit."
Mitchell noted that Mexico has been a cooperative partner with CARICOM, and the summit convened served as a platform to strengthen their relationship. He thanked Mexico for its sustained support for the Caribbean region, and noted that they had discussed specific areas of focus, primarily disaster management and recovery and the development of a mechanism to strengthen bilateral cooperation.
The parties noted that both CARICOM and Mexico have been hit hard in recent times by hurricanes, and notwithstanding Mexico's own challenges, it has pledged its financial contributions to strengthen the Caribbean Catastrophic Risk Insurance Facility (CCRIF).
Mitchell also said that the parties agreed to collaborate to ensure the success of an upcoming international donors conference, being convened by CARICOM and the United Nations on 21st November 2017 in New York.
Mexico has agreed to work with CARICOM to coordinate assistance for its member states most affected by the recent hurricanes—Irma and Maria—to ensure outcomes that include clear and concrete results.
"The Caribbean has been designated the most disaster-prone region in the world. This poses a serious and recurring threat year after year. Climate change is an existential issue. It is our reality today, not some far away possibility. And therefore it requires urgent and effective action. Rebuilding our housing stock and reconstruction of our countries' physical infrastructure needs to be achieved in the next 5 to 10 years; not 20 to 30 years," Mitchell said.
CARICOM Ambassador Irwin La Rocque said: "The swift occurrence of two category 5 hurricanes within two weeks signals a dangerous change in the intensity and frequency of climate-change-related events. The unusually heavy rainfalls and widespread flooding in Trinidad and Tobago is yet another example. All this heralds the advent of a new normal. It emphasizes that climate change is not a matter to be debated. It is here. It is real. We are living it."
Mitchell said that the parties also discussed how best to increase the resilience of countries to the forces of climate change, and they committed to strengthening their cooperation within the region and with development partners, international organizations and agencies, towards enhancing their support for greater adaptation and mitigation measures. This includes initiatives to incorporate sustainable energy technology and early warning systems to strengthen resilience and reduce vulnerability, he said.
The parties also pledged joint action to mobilize support to further strengthen the capacity of CARICOM institutions in disaster risk management, to cooperate on addressing problems associated with de-risking of financial institutions in the region, and to further technical cooperation in areas such as health, statistics and ICT, identified as priorities in CARICOM's Strategic Plan for 2015 – 2020, the chair noted.
He said that CARICOM and Mexico also discussed cooperation in investment and trade and they agreed that the foreign ministers of CARICOM member states will meet with their Mexican counterparts to consider new forms of cooperation that will enhance and accelerate development in their communities.
Furthermore, President Peña Nieto committed to sending a high-level delegation, which he hopes to join, to an important meeting of private sector and public sector interests slated for December 4-6, 2017, in Grenada.
Peña Nieto noted that the region was seriously impacted by natural disasters and the devastation caused most recently in both the Caribbean and his own country, Mexico. He said that they can identify with the losses suffered by Caribbean nations as a consequence of the disasters and expressed his solidarity and support for what the region has been grappling with, especially those countries recently impacted by catastrophic hurricanes in September.
President Peña Nieto has extended an invitation for Prime Minister Barrow to visit Mexico.
Following their meeting on Wednesday, Barrow conferred the Order of Belize upon Peña Nieto. The Mexican president and his delegation left Belize immediately after the meeting at the Biltmore.