Headline
— 26 January 2016
— by Rowland A. Parks
BISCAYNE, Mon. Jan. 25, 2016–A man who has been described as an alcoholic was fatally chopped in an apparent act of self-defense after he attacked the mother of his mentally challenged girlfriend at their home in Biscayne, Belize District, on Friday, January 22.
He died from his injuries yesterday, Sunday.
The daughter, who is in her late thirties and is the mother of two children (not fathered by the deceased) is sometimes locked up in a plywood room whenever she becomes uncontrollable, and it was during one of those uncontrollable bouts, which led to the daughter being locked up by her mother, that her boyfriend became confrontational with the woman's mother.
This morning, Ladyville police briefed the media on the chopping incident that occurred in Biscayne at around 9:35 p.m. on Friday. Police said that when they arrived at the scene, they saw a brown-skinned man with a large cut wound to the back of his neck and another cut wound to the right upper arm. He was bleeding profusely on the front steps of an upstairs plywood structure, the police said.
"His name was learnt to be one Arthur Wade, 54, of Biscayne Village," police told the media.
"Wade," the police said, "went to the home of Moszetta Reyes, 62, and began to attack Reyes with a stick, hitting her on her back. Fearing for her life, she managed to seek refuge upstairs.
"However, Wade followed her upstairs with the stick. Moszetta managed to get hold of a machete and swung it toward Wade, chopping him behind the neck. Wade was rushed to the Karl Heusner Memorial Hospital by BERT ambulance in a critical condition. Wade succumbed to his injuries last night, Sunday, at the KHMH."
Police said that a black-handled machete and a stick measuring about six feet were recovered from the scene.
Reyes was released from police custody this morning and she spoke to reporters at her Biscayne home, where the incident occurred.
Reyes told reporters that on Friday, Wade went to the home to visit her daughter. "He asked me for the key and I refused," she said.
"I still gave him the key [apparently, he asked again for the key]. Then after that he came to me and told me that he couldn't open the lock. So I told him to give me back the key and I went upstairs. After I was upstairs, he came and said to give him the key [again], and I said no, because you said that you cannot open the lock," Reyes recalled.
She said that after that, she and Wade had a back-and-forth disagreement, and he told her that if she did not want to open the door, he would break it down.
"Well, go ahead, then," Reyes said she told him.
"He came down and went into the kitchen to get the axe. He couldn't find the axe, so he used a big stick that we had. He started to bruk the door. So I said 'I will call the police pan you'," Reyes explained.
"I know that is what he grievance me for, because he never want the police come for him," Reyes said.
"While I was talking to the police [she was on the phone with the police], he came and hit me, gave me a hurt here," Reyes explained, lifting her skirt to reveal a large bruise mark on the cheek of her buttocks.
"He whap me," she said.
"I ran up the stairs and when I ran up the stairs, he come behind me with the stick," she continued.
"He started to whap. I said (to police) he di whap me with the stick now. The phone dropped out of my hand," Reyes recalled.
"I stood by the door and I had a machete by the door, and I just start to juk wid the machete. And I juked until I saw him fall back way," said Reyes.
Reyes said she called her son and he called the ambulance and the police came. "He went in the ambulance and I went with the police," Reyes said.
Reyes said that she could not recall how long Wade had been in a relationship with her daughter.
When she was asked what had been going through her mind since Friday, Reyes replied that she was worried about whether Wade had died or he was alive.
"I can't really explain the change to unno. I was worrying," Reyes said.
She said that at times Wade was a good person, but, she noted, "when he want to be a bad one, well, that's the way (he is)".
"Sometimes he would come and say, 'I love you, Ms. Moz. But unno no love me'. I would ask him, 'why you say we no love you, Arthur?'
"I said we well ah love you, or else you wouldn't deh yaw wid we," Reyes said.
"The hardest part is to get him to leave my daughter alone. He come here and he help me bathe her, and I love the assistance (for her) as his girlfriend. But at times when she is so bad, that is the time he doesn't want to do it (leave her alone). Just leave her alone, leave her to me," Reyes said.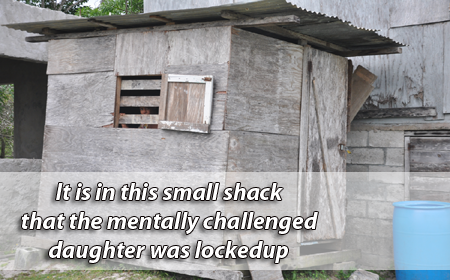 Reyes said that her daughter has been mentally challenged since she had her last two children.
"She go and come with it," she explained.
"Now she is pretty bad," she said.
Reyes said that Wade does not have any children with her daughter. The children were fathered by two other men.
Asked if she is worried that police might change their mind and charge her for his death, Reyes replied, "I am just waiting to know. I have to go this evening and I care to know what their verdict is."
Police told the media today that they are treating the incident as an act of self-defense; that is why Reyes was released from custody, but nonetheless, Reyes' file has been sent to the Director of Public Prosecution for her perusal and advice.
Reyes said that she became worried at times when Wade took her daughter to the water hole (in the village, there is a large lake on the side of the road), because she feared that he might drown her.
Reyes said that on Thursday, Wade knocked off the lock from the door and took her daughter (she did not say where he took her). "I was working and I never fully bothered. I call 911 and they came to check on it. He knew that the police were looking for him, and he brought her back in the night," she said.
Reyes said she has been trying to get assistance for her daughter and once, she even took her to Guatemala to get assistance for her mental condition.
"Sometimes they would come way ya and give her the medicine, but if I could get her in an institution, that would be the best thing," Reyes said.
We understand that Wade's family is in Crooked Tree, but we did not get to speak with them.
Related Articles
Share
About Author
(0) Readers Comments