Sports
— 29 March 2017
— by Bernard Wagner
Hurricanes' season fading fast, following 80-71 loss to Tiger Sharks
BELIZE CITY, Mon. Mar. 27, 2017–Belize City Hurricanes fans must be fuming, following their 80-71 home loss to the Tiger Sharks on Friday night, and the disappointing showing of this year's team, in their quest to defend their 2016 championship title. Some of this frustration, obviously, is now being pointed squarely at team management and ownership; and rightfully so, considering the fact that, as far as we can recall, going as far back to the glory days of semi-pro, no championship team has ever fallen so rapidly from a championship run one year, to mediocrity the following year. This, clearly, is a modern-day phenomenon. But, again, as far back as we can recall, no ownership/management of a reigning champion has ever opted not to re-sign arguably three of their best players; in the Hurricanes' case – Darwin "Puppy" Leslie, Farron Louriano and Jacob Leslie.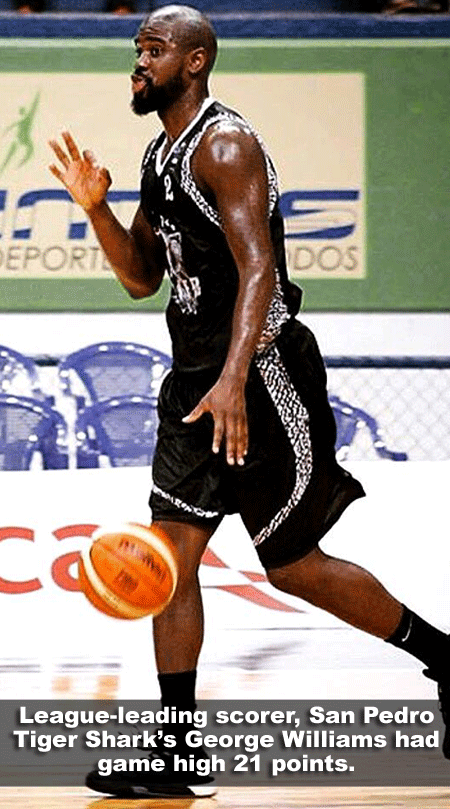 On Friday night, the Tiger Sharks sent the Hurricanes reeling to their sixth loss in eight outings at the SCA Auditorium, leaving just four games remaining on the Hurricanes' schedule. Both Douglas Valley and Raul Roches were able to hit from down-town in the first-seven minutes of play; and, when coupled with George Williams' 2 made field goals, gave the Tiger Sharks the early 10-0 lead. The Hurricanes then mounted a desperation 15-6 run, to pull within one point of the lead 16-15, eventually closing the end of first quarter play by the score of 20-19 in favor of the visiting Tiger Sharks. Unfortunately, second quarter play spelled the demise of the Hurricanes, as they were outscored, 28-13. And so, despite playing respectably the rest of the way, outscoring their opponents, 39-32, they were visibly unable to make up for their disastrous second quarter.
Akeem Watters led the Hurricanes with 18 points, to go along with 3 rebounds, followed by Leroy Louriano with 16 pts 3 rebs 3 asst. Brian White also contributed 14 pts 5 rebs 2 asst, and Macario Augustine chipped in with a double-double, totaling 14 pts 11 rebs.
League leading scorer, George Williams of the Tiger Sharks was once again dominant, scoring a game high 27 pts 7 rebs 4 asst, followed by Raul Roches 10 pts 6 rebs 4 asst. As a team, the Tiger Sharks shot 51% from the field on 30 of 58 shots. They had excellent contribution from their bench squad, who accounted for 21 of the team's 80 points, and they were better on the boards, 40-33.
The Hurricanes, on the other hand, shot a woeful 37% from the field on 26 of 69 shots. And, to make matters worse, their uninvited guest, this year's Achilles heel once again reared its ugly head – poor free-throw shooting, 18 of 40 for 45%; no bench support – 7 points total; no block shots capabilities – 1, compared to the Tiger Sharks' 6. These, when harvested together, tell the tale of the Hurricanes' season.
Related Articles
Share
About Author
(0) Readers Comments