"Just when you thought it was safe…" – Tiger Sharks ambushed by Dream Ballers, 57-52
BELIZE CITY, Mon. Feb. 20, 2017–The San Pedro Tiger Sharks suffered their first loss of the season on Friday night on the road, at the hands of Dangriga Dream Ballers at the Ecumenical High School Auditorium. The Dream Ballers utilized the term, "just when you thought it was safe to go back in the water," made popular in the well-celebrated shark movie, "Jaws," as a motivational tool to ambush the unsuspecting (4-0) Tiger Sharks.
The Dream Ballers (1-2) used a 25 to 16 explosive second-quarter run to balloon a once modest 10-point (16-6) first-quarter lead, to a 19- point 41-22 lead at the conclusion of first half play. This lead obviously would play huge, as they were able to withstand a frenzied third-quarter 21 to 2 Tiger Sharks charge, which saw their lead evaporate and the score tied up at 43 to 43 at the end of the third quarter. Miraculously, they regrouped rapidly, and quickly orchestrated a game-closing mini 14-9 fourth-quarter run, to record the big 57-52 upset.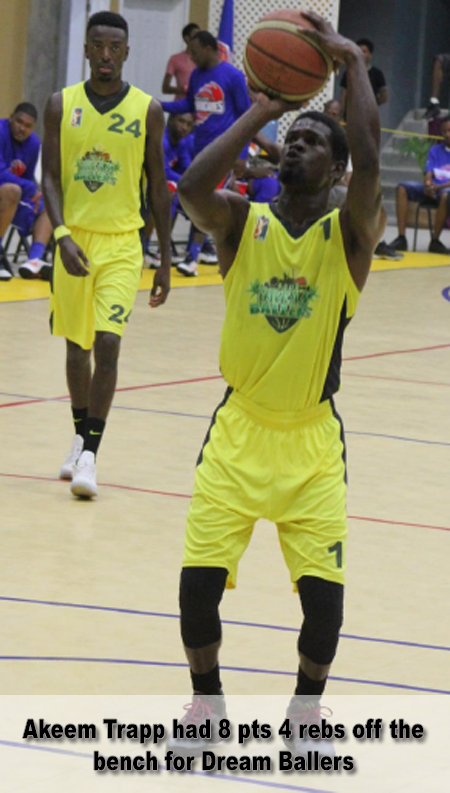 The Dream Ballers had a balanced attack with 8 of 11 players scoring, of which three of them recorded double-digit points. Leading the way was Quinton Bowen 13 pts 10 rebs 3 assts 2 blks, Tahj Wells 10 pts 15 rebs 3 stls 4 blks, and Dillmore Conorquie 10 pts 9 rebs 2 assts. Interestingly, aside from their balanced offensive attack, the Dream Ballers displayed a choking defense that held the league's top offensive team (81.5 ppg) to a meager 52 points, while recording 10 block shots compared to the Tiger Sharks' 1. The game also exposed various Tiger Sharks flaws that must be corrected if they have any championship ambition. Of note was their poor bench support – outscored (20-6) by Dream Ballers; their lowly ball distribution – only seven of their made baskets were off an assist by teammate; and their listless field goal percentage – they could only muster a 26% clip. Aside from George Williams 23 pts 3 rebs, the Tiger Sharks did not have much to talk, with the next closest player being Raul Roches, who totaled 8 pts 9 rebs. With the loss, they now stand at (4-1), while the Dream Ballers are now at .500 ball with a (2-2) record.
---
Belize City No Limit finally crack into win column, by taking down defending champs, Hurricanes, 75-70
Belize City No Limit (0-4) struggled out of the gate in 2017, but they were finally able to break into the win column this past Saturday night, as they held off a late fourth-quarter charge by the defending champs, Hurricanes, to pull off the big 75-70 win.
Whether it was a shot in the arm provided by new American import, Kenny Brown, or simply the energized play of Lincey Lopez, the winless No Limit offensive development was evident early on in the game, as they were able to jump out to an early 10-2 lead; a lead they would never relinquish for the entire duration of the game. And, while they weren't necessarily scoring in bunches, they were able to capitalize on a late second-quarter 14-6 run, which gave them the cushy 44-32 lead, but, more importantly, provided the group confidence required against the defending champs.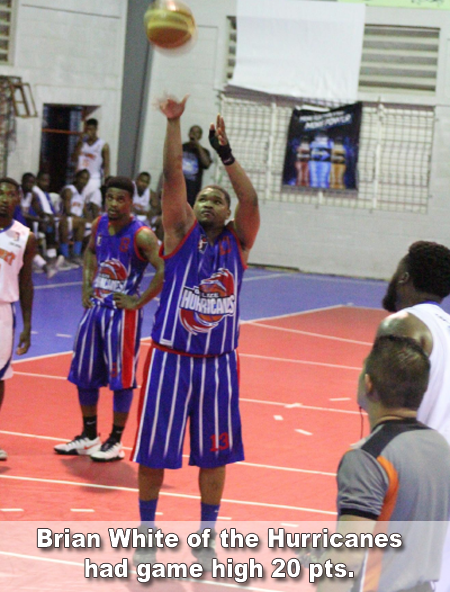 No Limit moved the ball extremely well in the first and second quarters, and took their time on the offensive end. They, however, struggled to hit shots in the fourth quarter, as they were outscored 19-13 in that quarter, consequently leading to the Hurricanes making the game very close in the waning moments of regulation, pulling to within three of the lead. No Limit, however, was able to seize some sort of control in the final few minutes of the fourth, thereby keeping their lead intact.
The Hurricanes, on the other hand, struggled both offensively and defensively, repeatedly missing free throws, shooting a woeful 22 of 37 from the charity strips. This, when coupled with 39% shooting from the field and 17 turnovers as a team, tells a tale of squandered Hurricane opportunities.
No Limit had four players scoring in double figures, with Marcus Lewis leading the way with 16 pts 6 rebs, followed by big-man in the middle, Kenny Brown 14 pts 8 rebs 3 assts 2 stls 3 blks, Marcel Orosco 12 pts 4 rebs, and Lincey Lopez 10 pts 5 rebs 8 assts 7 stls. As a team, they were very efficient, shooting 48% from the field and 50% from the charity stripe. They out-rebounded the Hurricanes, 35-32; and had 6 block shots, while the Hurricanes had none. They also showed more defensive intensity, coming up with 13 steals, compared to the Hurricanes' 8.
Meanwhile, for the Hurricanes, it was Brian White with 20 pts 6 rebs 2 assts, followed by Clency Lopez with 14 pts 6 assts, and Winston Pratt 13 pts 4 rebs 2 assts. With the loss, they now fall to (2-3) on the year, while No Limit now stands at (1-4).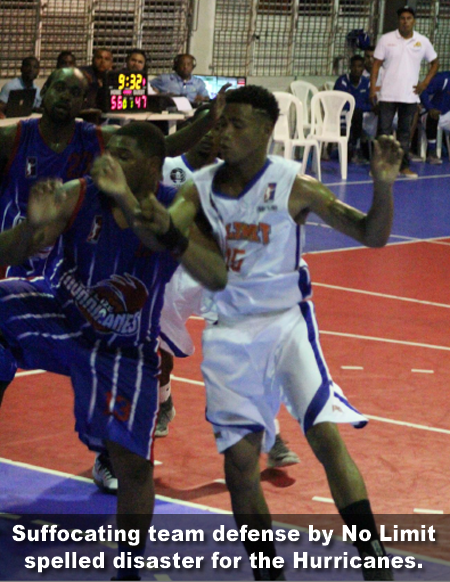 ---
Pepsi's NEBL Season bounces into Week 7
by Karim Juan – NEBL Commissioner
BELIZE CITY, Sun. Feb. 19, 2017–The Pepsi National Elite Basketball League (NEBL) is fast approaching its All Star Break, with almost half of the regular season behind us.
Fans are invited to view our website at neblbelize.com in order to access all box scores, player statistics, statistic leaders, team standings and live stats, while the games are being played.
Upcoming schedule (NOTE CHANGES):
Friday, February 24
9:00 p.m. – Belmopan Bandits vs Cayo Western Ballaz at Sacred Heart College Auditorium
9:00 p.m. – Belize City No Limit vs Dangriga Dream Ballers at Ecumenical College in Dangriga
NOTE: Game between Belize City No Limit and Dangriga Dream Ballers has been rescheduled from Saturday, February 25, to Friday, February 24, due to venue availability. The Belmopan Bandits vs Cayo Western Ballaz game was also previously changed to Friday.
Saturday, February 25
9:00 p.m. – Orange Walk Running Rebels vs San Pedro Tiger Sharks at San Pedro High School
Related Articles
Share
About Author
(0) Readers Comments