Sports
— 11 March 2017
— by Bernard Wagner
Hurricanes downgraded to depression, as Rebels devastates shelter with 86-84 win
Sunday, March 5, 2017–   The defending champs, Hurricanes aren't playing like it lately, and even their much-publicized hurricane shelter could not withstand the devastation brought on by Coach Brads Neal and the visiting Orange Walk Rebels on Sunday night in an NEBL holiday special.  The Hurricanes suffered its second straight defeat and first to the Orange Walk Running Rebels this year, a team which they have traditionally dominated in their head-to-head match-up since 2014; and a team they had not loss to since February 28, 2015.
Tonight, though, they succumbed reluctantly, losing by the final score of 86-84 in a perilous mid-season match-up.  The Hurricanes, unexpectedly, have now started their title defense, winning just 2 of their first 6 games, while experiencing their second two-game losing streak of the season; something they did not endure throughout the entire 2016 championship run.
The defending champs trailed almost the entire game, and at one point stared up at a 17-point deficit of 67-50 at the end of third quarter play.  They did, however, claw their way back in the fourth quarter, putting in a press defense that enabled them to outscore their opponents 34-19, and for a fleeting moment took an 84-83 lead with just 28 seconds remaining in regulation.  But the experienced play of Rebels' Lennox Bowman would not be outshined, as he came to the rescue of his young Rebels teammates, hitting a huge jump shot with 11 seconds left in the game, to give the Rebels a season defining win.
The high-flying Shemar White was the spark off the Rebels bench, as he led his team with 17 points, 3 rebounds.  He joined three other Rebels in double figures, those being James Ewing 16 pts 8 rebs 2 asst; big-man in the middle, Elvis "Baby Shaq" Olivera, who totaled 13 pts 11 rebs; and point guard Randy Usher 12 pts 2 rebs 2 asst.  However, the Player of the Game undoubtedly went to slick and filthy-smooth Roger Reneau, who totaled 9 pts 8 rebs 5 asst 4 stls and 3 blks – an all-around performance.
Meanwhile, Akeem Watters and Leroy Louriano led the Hurricanes with 18 pts 4 rebs 3 asst 7 stls, and 18 pts 2 rebs 5 asst 7 stls, respectively.  Josh Mason, who started out hot, but fizzled in money time, had 11 pts 5 rebs 6 stls; while Clency Lopez played effectively off the bench, contributing 12 pts and 1 asst.  The Hurricanes as a team shot 40% from the field, and were poor from the charity strips, missing 28 of 42 free-throw attempts for 33% – very un-elite like.
The Hurricanes' trajectory is clearly heading in the wrong direction; offensively they look out of sync, and defensively there are gaps in the game when it is non-existent, and other times when it is suffocating.  As a team, they are not dominating opponents as last year, and seem to lack an identity.  Last year, they were led by three stars – the Leslie brothers (Darwin and Jacob), coupled with the tough inside play of Farron Louriano.  This year, they have a collection of individual talent, which, based on the results, obviously is not "gelling".  The All-Star break couldn't have come at a better time for the defending champs; it gives them the opportunity to step back, reassess the situation, and make the necessary changes to turn this season around.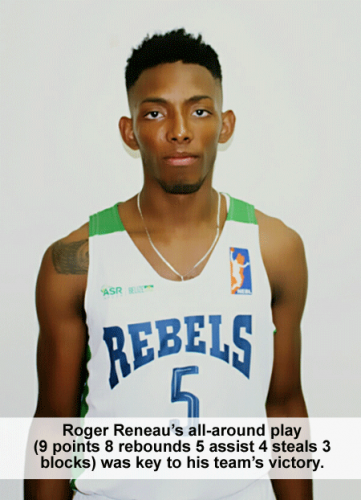 ---
Belize City No Limit suddenly hot, wins 2 of last 3 games, with 79-72 win over Western Ballaz
On Friday night, Belize City No Limit avenged their 63-56 road loss to the Western Ballaz, suffered on February 11, 2017, at the Sacred Heart College Auditorium, by beating them this time around by the final score of 79-72 at the BES Auditorium.
The score was skin-tight for most of the game, with neither team being able to shake the other.  Actually, there were 7 ties and 13 lead changes, with the largest lead (11) coming in the final three minutes of the game to the eventual winner, No Limit.  The score at the start of the fourth quarter was a mere 54-53 lead in favor of No Limit.  But with 7:33 remaining in regulation, No Limit began their push with John Rudon hitting a big three on the assist from Bernard Felix, who played outstanding ball within a span of 2 ½ minutes, scoring 2 points and dishing out 3 assists, to push his team to a seven-point 71-64 lead, a lead they would never relinquish.  Felix finished the game with 7 pts 7 asst, while shooting 3 of 6 from the field.  The big guy in the middle, superstar Kenny Brown was very efficient, adding 20 pts 7 rebs 3 asst on 8 of 8 shooting from the field.
In the meantime, the Western Ballaz had five players scoring in double figures, led by Daniel Nolberto 16 pts 3 rebs 2 asst.  He was followed by Richard Troyer and Brandon Flowers with 12 pts 9 rebs 2 asst, and 12 pts 9 rebs 1 asst, respectively.  Darwin Leslie added 11 pts 3 rebs, while Brandon Rogers totaled 10 pts 2 rebs 1 asst.  As a team, the Ballaz shot 32% from the field on 22 of 68 shots, while they could only hit 22 of 42 from the charity strips for a 52% clip.  They were out-rebounded 48-44, and their opponents displayed superior ball distribution, assisting on 20 of their 73 attempts, when compared to the Ballaz assisting on only 13 of their 68 attempts.
---
Tahj Wells' 30-point effort helps Dream Ballers win third in a row with 90-81 win over Bandits
The Dangriga Dream Ballers basketball team opened first-quarter play on a 17 to 9 run, but quickly had to regroup, as the Bandits responded with a 14 to 4 run of their own, to take the 23-21 first quarter lead last Thursday night at the UB gymnasium.  Second quarter was rough and tuck, as both teams tried to establish consistency.  The quarter ended with the visitors enjoying a slim one-point lead, 40-39.  The hometown Bandits orchestrated a 26-19 third-quarter run, which put them ahead, 65-59, at the end of third-quarter play.  But an early 8-0 run by the Dream Ballers in the first four minutes of the fourth quarter, seemingly rattled the hometown Bandits, who never fully recovered, committing 6 turnovers, while hitting just 3 of 9 from the field, resulting in the Ballers securing the come from behind 90-81 win.
The win, Dangriga's third in a row, puts them now at 4-2 on the year, and just one game behind the league leading San Pedro Tiger Sharks, a team they beat earlier this year.  Tahj Wells scored 30 points, while grabbing 14 rebounds, to go along with 1 steal and 2 blocks.  Wells earned his 4th double-double of this season, and it was also the third straight game in which he has done so.  Dillmore Conorquie contributed 23 pts 6 rebs, while Quinton Bowen had 19 pts 8 rebs 4 asst 2 stls.
Farron Louriano led the Bandits charge with 20 pts 9 rebs 3 stls, followed by Stephen Williams 16 pts 2 rebs, and Edgar Mitchell 10 pts 6 asst.
The Dream Ballers' DNA was on full display in this one, dominating inside, while winning the rebounding battle; grabbing 53, compared to just 36 for the Bandits.  They held the Bandits to just 29-of-69 (42 percent) shooting from the field in the game.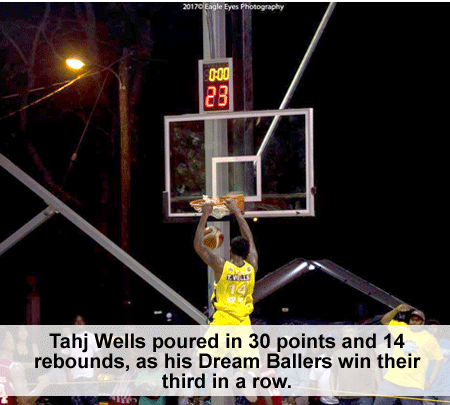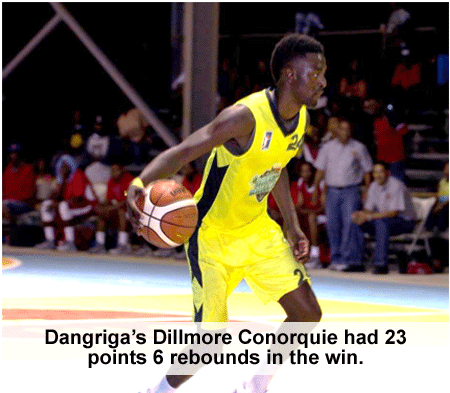 Related Articles
Share
About Author
(0) Readers Comments