BELIZE CITY, Mon. July 30, 2018– For years, there has been talk, especially by Oceana, of banning the use of gill nets in Belize, because protected species of fish, such as bonefish and tarpon, are often included in the catch of fish pulled out the water by such a mechanism.
In 2016, even Belize's Coast Guard agreed with Oceana. Admiral John Borland, Commandant of the Coast Guard, had told the media that using gill nets was a "destructive and indiscriminate practice" and that the results were "more detrimental than they are beneficial."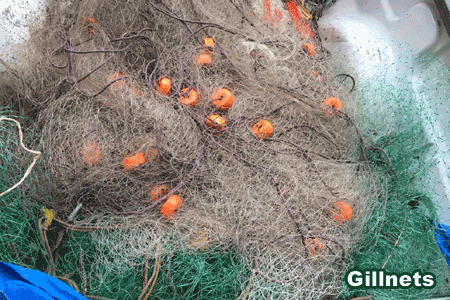 In 2016, Oceana had also shared pictures via their Facebook page showing protected species, such as hammerhead sharks, that had been caught in gillnets. In this same post, they also featured a letter from fishermen in the Toledo District who were asking the Fisheries Department for a ban on gill nets in 1997. This letter was signed by numerous fishermen, and it stated that they were trying to "preserve today for tomorrow's future."
Just last year in September, a tiger shark died after it was caught in a gill net. This had happened outside the shark fishing season, and with an untagged gill net, which suggested that it was illegal.
However, there are a group of people in Belize who vehemently oppose the banning of gill nets. The Shark Fishers Association, a recently formed group to represent "the hundreds of fishers" that fish for scale fish and sharks, issued a release to "express its formal position on gill net fishing in Belize."
The release says that the members of the association have always abided by the regulations set by the Fisheries Department and cooperated with Government authorities in the conservation and protection of marine life. However, the release continues, the association feels that Oceana and other activists' attempts to ban gillnets are threatening their "way of life and survival."
The association claims that "Oceana has never provided evidence that gill nets in Belize is negatively affecting marine life."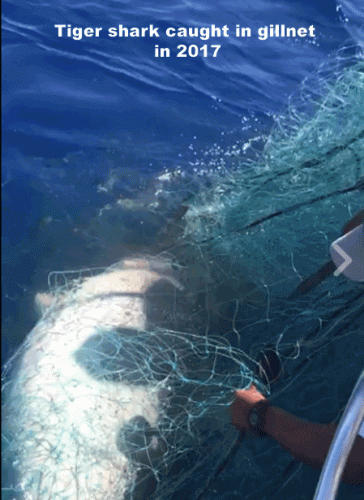 The release also makes mention that they have been informed of a Gill Net Task Force. Back in February of this year, the Ministries of Fisheries, Forestry, and the Environment and Sustainable Development announced that they would commission a taskforce that would be comprised of government and non-government agencies along with private sector partners and fishermen in order to enhance measures that would reduce the harmful effects of gill nets on marine life. This initiative was approved at the February 15 sitting of the Cabinet.
The Shark Fishers Association said in their release that they had not been invited to the first meeting of the taskforce, and said that they would want to participate in the discussions in order to "voice the position of hundreds of fishers."
This release was sent directly to Oceana, who said that they responded to the sender by asking for clarification on what the group refers to as "the hundreds" of fishers who  fish for sharks, especially since there are only about 73 Belizeans who are licensed to catch sharks.
Oceana continued their statement by saying that they have invited the association to hear their position on the matter because they believe that the policy changes that they advocate for are to "support sustainable fisheries management efforts and to ensure all fishers will always be able to fish."
They concluded their statement by saying that gill nets are not the only way to fish, and only about 6% (169 of 2,716, according to the Fisheries Department) of licensed Belizeans use gill nets.
Another release was issued today by Oceana that detailed areas where gill nets can't be used, including Marine Protected Areas, at Spawning Aggregation Sites, at the mouth of rivers, and near the shorelines of Monkey River or Placencia.
The release continued by saying that "a lack of monitoring and enforcement has meant that gill nets are consistently being used in places they shouldn't be, and in ways already prohibited by law. Moreover, Belizean fishers assert that this is the gear of choice in illegal fishing activity. Gill nets are therefore undermining the 'protected' status of several species via bycatch, general sustainability efforts and most significantly, compromising the livelihoods of thousands of Belizeans who depend on a healthy sea."
As for moving forward, Oceana believes that the 169 licensed gillnet users "can be supported to transition to sustainable gear and alternatives." Oceana has been trying to obtain the names of these licensed gill net users from the Fisheries Department for some time now, but has been unsuccessful.
Why the Fisheries Department refuses to supply Oceana with something as simple as a list of all licensed gill net users has not been explained, raising the suspicion that something underhanded may be involved.
According to Oceana, it is "our collective right as citizens of Belize to be fully informed about who is accessing our shared natural resources and how they are doing so."
Oceana ended this release by saying that "informed decision-making is the way forward," and Belizean fishers deserve to keep on fishing, which can only happen if it is done sustainably.