BELIZE CITY, Mon. Sept. 12, 2016–Arriving in Belize via the P.S.W.G. International Airport this evening, was a full contingent of the Mexican national champions, Pachuca FC, here for their Scotiabank/CONCACAF Champions League return leg against Belize's Police United FC at the FFB Stadium tomorrow evening at 6:00 p.m. And they are all business as they strode into the Belize Biltmore Plaza Hotel around 5:30 this evening. After checking in at the hotel desk, all the players and other team personnel promptly made their way to their rooms, leaving only their press officer and a couple players to share a few words with the waiting media representatives. One of those players spoke fluent English, and we managed to get a few comments from him.
Orlando Gonzalez, who says he is the starting center back for Pahcuca, stands around six feet four inches, maybe more, and was modest and guarded in his remarks, but couldn't escape admitting that, as fans would expect, they are here to do all the damage they can, in terms of scoring goals, to try and win their group, and make it to the coveted Hexagonal in Champions League.
Olimpia beat Police United, 4-0, in Honduras; and Pachuca beat Police United, 3-0, in Mexico. Police United has return matches to be played against both teams in Belize, starting with Pachuca tomorrow. Pachuca defeated Olimpia, 1-nil, in Mexico; they have a return match to be played in Honduras in October. Only one of the three teams will qualify from this group to the Hexagonal.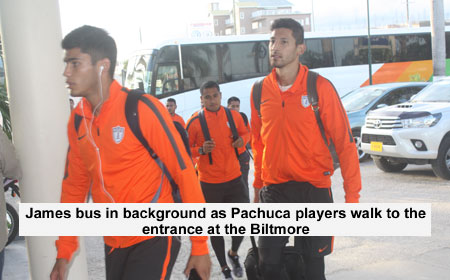 Amandala asked Orlando, "…Going into this game tomorrow, you are confident of a victory; but what would you consider a success for your team, in terms of the score tomorrow, with a victory, even, and what would you consider a disappointment for your team, considering that Olympia has to play this team also?"
Orlando's reply: "I think that a disappointment would be, obviously, losing; but I think a success would be winning, and with multiple goals in our favor. I think it (could) come down pretty close to goal differential; and so, if we can get in the back of the net a few times tomorrow, that would be very good for us. And so, tomorrow, we want three points, and as many goals as we can. When we were at home, we had a lot of shots on goal, but Police United's goalkeeper had an amazing game, and only kept us to 3 goals. So…"
Amandala: "So you're 'taking no prisoners' tomorrow."
Orlando: (laughs) "We're… we're (sic) try not to. Our coach wants us to go out there and show the team as much respect as we can by playing the best."
So, football fans, one and all can rest assured that everything will be "for real" at the FFB Stadium tomorrow, where Mexican champions Pachuca FC will be bringing their "A game," and our Police United FC will be doing their very best to "hold it down."
In a way, this might be considered a first of sorts for international club football in Belize. As far as we can recall in CONCACAF club competition, there has never been as great an incentive for our foreign adversaries to "pull out all the stops" against their Belizean opponent. When we play away first, and lose by lopsided scores usually at altitude, the foreign club would normally see no need to send their best teams for the return match. And when they would play the first leg of the series in Belize, they would be satisfied with a low score, to encourage their fans to come out for the return match on their home soil. So, in either case, we seldom see the absolute best of our foreign club competition in Belize. Remember, just last year, in Verdes' exciting 0-0 draw at the FFB Stadium against Mexico's Queretaro on August 18, they had not fielded their top striker, Emanuel Villa, who proceeded to blast 5 goals in their 8-0 win against Verdes in the return match in Mexico on September 17.
Tomorrow, Pachuca will bring "everything," and our Police United is not backing down. They could use the "twelfth man" in the stands tomorrow, for sure. "Make some noise," Belize!