BELIZE CITY, Wed. Nov. 22, 2017-The home and away semifinals in the Premier League of Belize (PLB) 2017-2018 Opening Season got under way over the weekend with game 1, but for all intents and purposes, the "fat lady" has sung for this one; it's over for BDF FC and San Pedro Pirates FC, both of whom lost their home games by 6-goal margins to the two top seeds in the PLB semifinal playoffs on Saturday and Sunday, respectively.
#2 seed Verdes FC was the odds on favorite when they visited #3 seed BDF FC at the MCC Grounds on Saturday afternoon for game 1 of their semifinal series, but few fans expected the onslaught that occurred. First half ended 2-1 in favor of Verdes, but it was all Verdes in second half. The only BDF goal was a first half penalty conversion by Vallan Symms (30' PK); while 5 Verdes players shared in the shelling, 3 from Brazilian Alcides "Paco" Thomas (15', 46' & 73') and 1 each from his countryman Roberto Silva de Lima (51'), Gilroy "Bredda" Thurton (68'), Elroy "Bibbs" Kuylen (69') and Ricardo "Cheety" Jimenez (89'), for the final 7-1 score.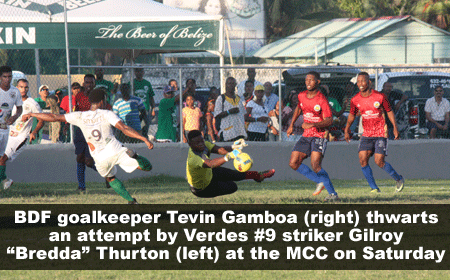 A long rain delay pushed the kickoff time from 3:00 p.m. to almost 6:30 p.m. at the Ambergris Stadium on Sunday evening; but, despite their loyal home fans who held their seats patiently, nothing would go right in the first PLB semifinal outing for #4 seed San Pedro Pirates FC, who were picked apart by the efficient striking force of #1 seed Belmopan Bandits SC. Missing from the San Pedro sidelines was coach Jorge Nunez, who had reportedly been suspended for an infraction in the previous game. Like with Verdes the previous day in Belize City, there were 5 Bandits players on the score card, Honduran midfielder Darwin Bermudez (18'), Elroy Smith (20'), Jerome "Jarro" James (33'), Honduran striker Georgie Welcome (42' & 74') and Honduran midfielder Kervin Johnson (86'), for the 6-nil final score.
It will be a strange atmosphere at the semifinals game 2 this coming weekend, where fans for the home teams will likely be in a celebratory mood, their teams having all but clinched their spots in the Big Dance for the championship. The yellow card situation will be a matter of concern for Verdes and Bandits, who would not like to lose any of their starters for the finals. But the games must be played, and both BDF and San Pedro Pirates will be looking to redeem themselves after their disastrous outings this past weekend. It's no longer about getting to the finals, but gaining back some respect. Look for some youngsters getting a chance at center stage in both games, as Verdes' and Bandits' coaches may well employ strategies to prepare for the game ahead.
Regardless, neither Verdes nor the Bandits would like to suffer a defeat of any kind on their way to the big showdown for the championship next week. So, if it is a victory that San Pedro Pirates want on Saturday night at the Isidoro Beaton, and that BDF FC wants on Sunday afternoon at the Norman Broaster, rest assured, football fans; they both will have to earn it. It's still eleven against eleven.
PLB Semifinals Game 2:
Saturday, November 25
8:00 p.m. – Belmopan Bandits SC vs San Pedro Pirates FC – Isidoro Beaton Stadium
Sunday, November 26
4:00 p.m. – Verdes FC vs BDF FC – Norman Broaster Stadium
Related Articles
Share
About Author
(0) Readers Comments