Headline
— 24 February 2015
— by Albert J. Ciego
BELIZE CITY, Mon. Feb. 23, 2015–Otto Raimundo Palma, 23, of Ladyville, detained by Ladyville police on Tuesday, February 17, pending a charge of rape, was found dead in his cell at the police station at about 7:45 Wednesday evening, February 18.
Police say that Palma was found suspended by a white T-shirt from the upper metal bar on the door of his cell.
Police labeled his death a suicide, but Palma's family do not believe the police.
Today, Monday, Preston Reynolds, Palma's father, visited Amandala and showed us a copy of the medical certificate which stated the cause of Palma's death. In that certificate, police coroner Dr. Mario Estradabran listed hanging as the cause of "injury leading directly to [Palma's] death". The section listing "other significant conditions contributing to death" was blank, which could apparently invalidate the family's theory that Palma was tortured and died during the ordeal.
The question is, did he hang himself in the police station cell, or did someone hang him?
So, according to the coroner, Palma's death was as a result of "hanging," but the relevant question is, did he hang himself, or was he hanged?
Palma had been detained on the basis of a report by a 13-year-old Ladyville girl who told police that on Sunday, February 15, at about midday, a man had dragged her into the bush in the Vista Del Mar area in Ladyville and raped her when she was changing her clothes after bathing in the sea in the Bella Vista area of Ladyville.
Palma was picked up that same Sunday, but was released on Monday. He was told to return to the station on Tuesday, and when he went back to the station on Tuesday, he was rearrested and on Wednesday, he was found dead hanging in his cell.
Reynolds visited Amandala this morning and told us that on Wednesday, his son was found hanging in a cell at the Ladyville Police Station, after which he was taken down and carried to the morgue.
While police informed them, and the media, that Palma hanged himself while in custody, Reynolds told us that he was denied access to his son's body for 3 days, despite his repeated requests to see him within 24 hours.
On Friday morning, according to Reynolds, he was summoned to the morgue, where, when he entered the room, he was met by the police coroner and the police, and he was requested to identify his son by means of looking at his face and his Social Security Card, although he was not allowed to go observe his son's body.
Reynolds told Amandala that he was about three or four feet from his son's body, which was covered with a sheet up to his chin. Reynolds said that as he made a step to draw closer to the body, the police stopped him and told him that he did not need to go any closer, and that he could identify his son's body from that distance away.
After identifying his son, Reynolds told us, he was told to leave the room, and the post-mortem exam was conducted on Palma on that same day, Friday, without any family member being present. He said that he saw a bruise on his son's face, but was unable to see anything more.
Reynolds said that there are questions to be answered, despite what was said by police, that Palma committed suicide.
According to police, Palma was found suspended about 12 inches off the floor in the cell of the Ladyville Police Station, but Reynolds disputes the claim and says that Palma's feet were on the floor, and not suspended, and that his shirt was wrapped around his neck with his back against the cell bars, which, he said, was contrary to the position someone who hanged himself would be in.
Reynolds bases his statements on what he was told by his girlfriend, Palma's mom, who had been taken into the cell along with her daughter, and had seen the position of the body. Her daughter tried to take a photo of Palma for evidence, but the police objected, and chased them out of the cell and out of the station, Reynolds claims.
The position in which Palma was seen, with the shirt around his neck, would have made it very difficult to hang himself without his tearing the shirt into long strips to tie around his neck and around the bar of the cell. The shirt was too short and it was not torn, Reynolds said.
Reynolds also stated that his son was not crazy enough to kill himself.
Reynolds told Amandala that his son had a previous rape charge against him for an incident which occurred in September, 2014, but the alleged female victim was 41, and after the act of intercourse, she demanded money, which he, Palma, did not pay, so she went to the police and reported that he raped her at gunpoint.
Reynolds said that the case was later dismissed.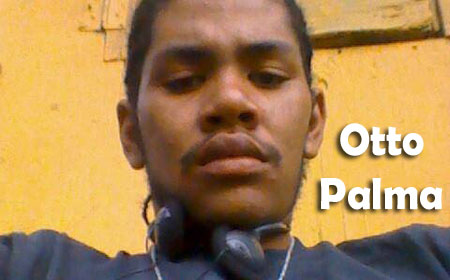 On Sunday, February 15, after the rape of the 13-year-old girl, according to Reynolds, police found Palma and held him at the Ladyville Police Station, and released him on Monday.
According to Reynolds, the child listed several different persons as possible culprits who committed the rape against her, and Palma was cleared. Then, on Tuesday, he went back to the Ladyville Police Station to sign in, as he was ordered by police when he was released on Monday, and that was when he was again arrested.
Reynolds said that his girlfriend, Palma's mom, later went to the police station with food for him, but he did not eat it.
She later went to the station again, after she became concerned that he had not been released, and in the station, her phone rang, and someone told her that her son had been killed at the station.
She immediately began to ask questions, and called her daughter, who went to the station, and after being pushed around for about half an hour, they were taken to the cell, where they saw Palma hanging against the cell door, Reynold's girlfriend allegedly said.
Reynolds said, as previously mentioned, that Palma's sister had tried to take pictures of him, but the police took away the phone and told them to leave. The body of his son was then taken down and taken to the Karl Heusner Memorial Hospital morgue in a police pickup truck, and that was the last time they saw him.
According to what Palma allegedly told his father, Reynolds (following his initial detention for the rape of the 13-year-old), while he was detained on Sunday, he was taken to the Vista Del Mar area in Ladyville and placed on the ground, and shots were fired into the ground around his head.
Reynolds surmised that his son was tortured in the cell, which led to his death, and police concocted the suicide story to cover his murder.
Reynolds is calling on the Ombudsman, the Commissioner of Police, the Human Rights Commission and every other relevant official or organization, to launch an investigation into Palma's death.
However, in a press briefing held on Thursday, Superintendent Hilbert Romero said that a full investigation is being carried out into the death. The commander said that there were no signs of violence on the body, and there were two bars on the door of the cell — a lower bar and an upper bar, and it was very easy for a person in the cell to put his foot on the lower bar and hang himself from the upper bar.
Romero reemphasized that the death is being investigated from all angles.
Funeral arrangements are being made to bury Palma in Ladyville on Wednesday, said Reynolds.
Related Articles
Share
About Author
(0) Readers Comments