BELIZE CITY, Thurs. July 7, 2016–As we go to press tonight, City residents are resting uneasy after three young lives were cut short on Wednesday amid an upsurge of gang warfare, marked by retaliatory shootings, the latest of which sparked an arson on Castle Street where one of the latest victims, Tevin Palmer, 20, was gunned down yesterday afternoon.
Despite the recent rash of killings, Assistant Commissioner of Police Chester Williams, commander for Belize City's southside, has noted that the first six months of the year saw a marked reduction in murders, from 27 to 17.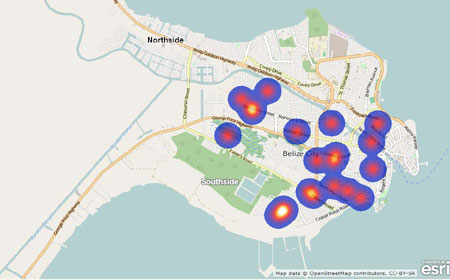 Back in March, Williams implemented a 9 o'clock curfew for minors, after pointing out that very young boys were being enlisted to commit murders.
Even though the southside has seen a reduction in murders since the year began, when compared to the same time last year, the rest of the country has seen an upsurge.
We have not yet gotten the official stats we've requested from the police, but our preliminary figures indicate that whereas 46 murders were committed outside Belize City for the first half of 2015, and 28 the year before, the first half of 2016 has seen at least 54 murders. It is evidently the highest on record for at least the past 4 years.
We note that almost half the murders for January to June 2016 (which exceed 70) occurred in the Belize District, with Cayo recording the second highest murder count. Stann Creek was third, Orange Walk fourth and Toledo and Corozal recorded the same amount of murders, based on preliminary estimates.
There were 5 murders recorded in San Pedro and 5 in Ladyville, which have also emerged as areas of concern.
We also note a reduction in the percentage of murders committed in the Belize District area.