BELIZE CITY, Wed. May 31, 2017–Officials at the National Meteorological Service in Ladyville today said that Belizeans need to be prepared during the 2017 hurricane season, which is forecasted to have above average cyclone activity. The season begins tomorrow, June 1.
Chief Meteorologist, Catherine Cumberbatch, told the press during a mid-afternoon briefing that this year is forecasted to have at least 14 named storms, higher than the seasonal average for the Atlantic at 12 named storms. The forecast also calls for 7 hurricanes, nearly double the 4 hurricanes which would strike during an average season. Meanwhile, 3 of those hurricanes may be major hurricanes, with strength of category 3 or higher – or winds higher than 110 miles per hour.
Cumberbatch explained that there are two main reasons why a more active season has been forecasted. One is the ENSO (El Niño–Southern Oscillation) phenomenon and the other is the warmth of the Atlantic Ocean. El Niño, which usually suppresses cyclone activity, is weakening.
What does the forecast mean for Belize? Deputy Chief Meteorologist, Derrick Rudon, emphasized that there is no correlation between the number of storms forecasted and one making landfall in Belize.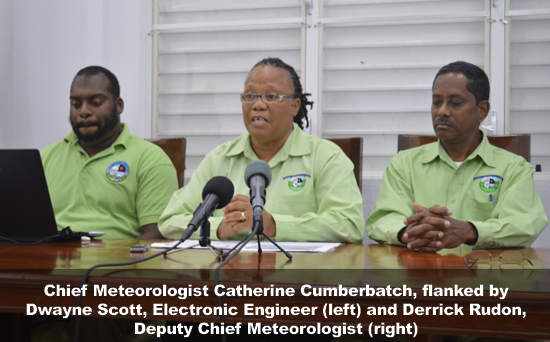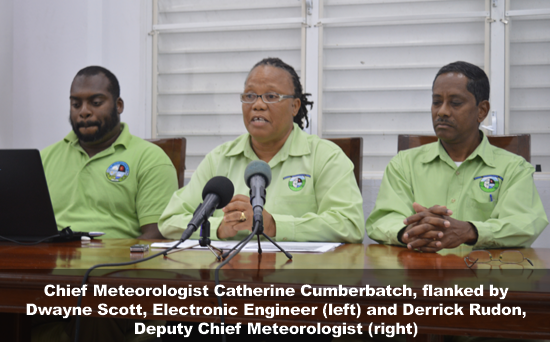 However, predictions can be made to indicate the probability of a tropical storm or hurricane affecting us here in Belize. When we asked Cumberbatch to elaborate on data available specifically for our region, she detailed that the predictions suggested that there is only a 17% chance of a hurricane coming within 50 miles of Belize, but there is 35% chance of a tropical storm coming that close to us during the upcoming hurricane season.
June 1st is also the start of the rainy season here in Belize. Details of what the rainy season is expected to look like, at least for the first three months, June, July and August, are expected to be released by meteorologist Ronald Gordon as early as tomorrow. Gordon is also expected to give an indication about whether there would be any drought watch during the next 6 months.
While outlining the upcoming hurricane season today, the Met Office simultaneously announced the June 1 launch of its new website featuring real-time data from 17 stations across Belize, so that Belizeans as well as visitors can better track weather conditions around the country.
Electronic technician Dwayne Scott told the press that the public would now be privy to the location-specific weather data for the first time through the Met Office's online interface, developed by a Met Office team which also included in-house programmer, Shanika Matura.
The site also features rainfall forecasts for up to 3 days for the entire country, which the public can also browse.
According to Scott, historical weather information will also be added to the website in the coming weeks.