Headline
— 27 March 2015
— by Kareem Clarke
BELIZE CITY, Thurs. Mar. 26, 2015–What does it have to do with the price of rice? It is an old adage which happens to be the center of an ongoing controversy that has arisen because an Indian merchant is poised to import cheaper rice, much to the chagrin of local rice producers and government officials who are hesitant to grant him a permit due to the upheaval that it will cause in the local market.
The said importer, Jack Charles, has promised to retail the Guyana-based rice for 69 cents per pound – which is about 50 cents less than the current price of local rice – since, according to Charles, the local rice producers, who distribute their product at a wholesale price of 94 cents per pound, are making "unfair and unjust profits" by gouging consumers.
After the Government of Belize issued a release yesterday which stated that all relevant ministries are conducting an in-depth review of the local rice industry to address the issue "as it relates to the production and supply of rice to the Belizean public", the local rice producers called a press conference today to respond to various recent public criticisms, one of which involved an accusation that they have teamed up to monopolize the industry.
"There is not a monopoly of rice in Belize", claimed chairman of the Belize Agro-productive Sector, Dr. Henry Canton.
"It is as competitive as any other industry; however, when there is a shortage, we all come together to decide how we will import without affecting the community at large", he continued.
Canton was responding mainly to a press release which was issued by Charles last Friday, March 20, in which he mentioned that he decided to pursue the initiative because he realized that last September, 3.1 million pounds of rice was imported at a cost of 1.6 million dollars by the Belize Marketing Board to compensate for a local shortfall, but although the rice was imported at a cost of 53 cents a pound, he has maintained that none of those savings have benefited Belizean consumers because it was still wholesaled at 94 cents per pound, and by the time it hit shelves, it was still selling for the regular price of $1.20 a pound.
Canton explained that the reason for that was because it was a bulk shipment of the lowest grade of rice and therefore needed further cleaning and processing.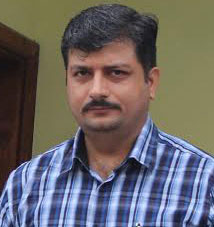 Charles (photo left) says he intends to bring in six containers initially – which is about half a million pounds since, in his opinion, those local rice producers need to face real competition; but while he is just waiting for Government's go ahead to bring in the stock, government officials believe that it will prove detrimental to the local industry.
Government said in its release yesterday that it will first consider a number of factors, including those affecting the price and market channels of domestically produced rice, and will conduct a review of the price control mechanisms, the importance of food security and Belize's obligations as a member of CARICOM – where barriers to free trade within CSME cannot be imposed.
In its last paragraph, the release says, "any action taken in respect to the rice industry in Belize will consider the need to reduce the cost of living as a high priority."
Of note is that until Charles started pressing the issue, what is now called a "high priority" was of no priority at all – and everyone in officialdom seemed content leaving the uncontrolled high prices just as they were.
Government is reluctant to grant a permit – but under the Treaty of Chaguaramas, there's only so much they can do to prevent importation from a CARICOM country.
In an interview with the media yesterday, Wednesday, Prime Minister Dean Barrow said that the matter was discussed at Cabinet on Tuesday and the consensus was that local producers have to do more to bring down the price of locally produced rice.
In fact, last year when the Belize Marketing Board imported 3.1 million pounds of processed white rice from Guyana – for 52 cents per pound, and then that rice was resold by the same producers for 94 cents wholesale under their own brand labels, no one said anything.
As for the producers, the onus in that regard is on the Belize Marketing and Development Corporation (BMDC) which oversees the importation of rice.
We attempted to contact both the BMDC and the Bureau of Standards today to find out if they were aware of the situation regarding the prices, but our calls went unanswered.
Related Articles
Share
About Author
(0) Readers Comments