Santiago Castillo Limited started in 1926 as a sole proprietorship import commission business under the ownership of Mr. Santiago Castillo, at the tender age of 19. It grew rapidly until the hurricane of September 10, 1931, which destroyed Belize. Not being insured, Mr. Castillo picked up the pieces and started all over again. His business progressed steadily until the start of World War II in 1939. During the war years, importation became risky business. Merchant ships ran the risk of being torpedoed. Importation halted and the country of Belize quickly suffered a shortage of basic food items.
Mr. Castillo, with his zeal for business and his understanding of Risks vs Reward, used his modest savings and chartered a ship, filled with basic food items, destined for Belize. Unable to buy marine insurance because of the war, his risk was compounded. Luckily, his plan worked and was repeated one more time. This catapulted his business to a position of strength and gained him the respect of the business community.
– pg. 10, SANTIAGO CASTILLO LIMITED GROUP OF COMPANIES: A Legacy Revealed, 2000
I explained in the column earlier this week that a move from my old office across the street has had me run into material from decades and decades ago, material which has invaded my psyche.
A couple weeks ago, I told you about a special little old man from the early UBAD days. On the night of July 7, 1970, when Ismail Shabazz and I were acquitted in the Supreme Court on seditious conspiracy charges, Richmond Fitzgibbon was sitting immediately behind me when I stood to hear the jury's verdict. His was the first voice I heard after the jury foreman's "not guilty."
When we began the foundation of what would be our headquarters on Partridge Street sometime in 1972, Richmond Fitzgibbon was in charge of the construction. (The building was later completed by Rufus X).
I wrote about Mr. Fitzgibbon a couple weeks ago, but I couldn't find a photograph. Earlier this week, I found two amongst material from the old office, and I'm reproducing both of them – Fitzgibbon in his work clothes and Fitzgibbon in a formal suit. Respect, Little Big Man.
Martha Bowman died two or three months ago. She was living on the ground floor of the wooden Mike's Club building at the corner of Regent Street West and West Canal, immediately across the street from the home where I grew up and from where we now distribute newspapers. I have to believe that Alvin Diamond, the proprietor of Mike's Club, who had a really big heart, must have been giving her free lodging, as he always gave to Belizeans down on their luck. (Diamond himself died recently.)
About two weeks before she died, Martha Bowman, a slim, "tallish" lady with the same low Afro I knew her with from 45 years ago, asked me for a money, for the first time in our lives. I was so surprised I went upstairs to get the money, and ended up locking the front door afterwards with my keys inside.
She was just one of a few Belizean roots people I have known who always had the same calm, steady demeanor no matter what, even though life was dishing out hell for them. She lived in her own space, and never bothered anybody, or at least that was how it seemed.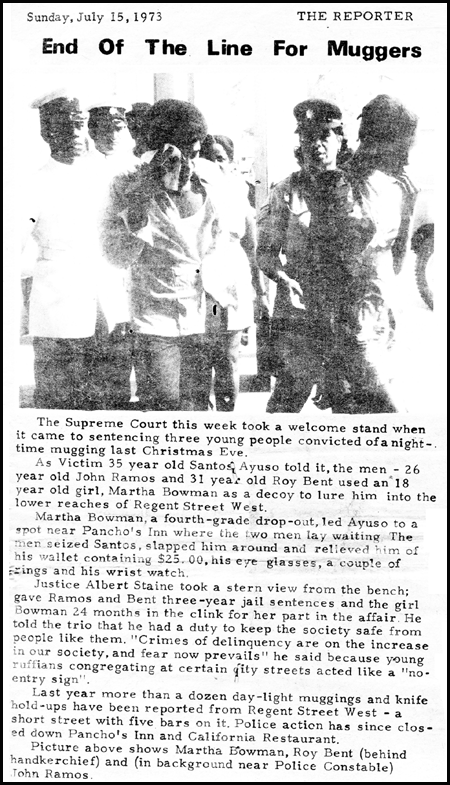 In the immediate aftermath of her death, I learned that Martha Bowman had mothered four children, and I had known one of the children, Samuel Gabourel, pretty well.  Samuel was murdered in Ladyville, but I had no idea Martha was his mother. Now, in the last couple days I have learned that a colorful character from the old Bolton Bridge area (Rick's Club/Rick's Bar), the one "Dickie" Gabourel, may have fathered a couple of Martha's children.
John Ramos was known in the streets as "Sad Man," a street legend in his own right. After serving time on the charge discussed in this Reporter clipping from 1973, he was based in Majestic Alley, where I remember his selling the best reefer for a while in the late 70s/early 80s. I think the caption in the newspaper clipping is wrong: the person with the handkerchief is John Ramos. I don't see Roy Bent in the photo.
Finally, to complete this column which may be described more as a historical pictorial, I found a photograph which is almost fifty years old, when Santiago Castillo, Sr., at the time the most successful businessman in British Honduras, was opening his Bandag tyre recapping factory on Central American Boulevard. This would have been around 1969, 1970. Premier George Price made a personal visit to support the venture, since this was the type of industrial investment he and his ruling People's United Party (PUP) wanted to see as Belize headed towards independence.
There are two noteworthy things about the photograph. Firstly, most people considered Mr. Price and Mr. Castillo to be political opponents, in the sense that Mr. Castillo was rumored to support Philip Goldson's National Independence Party (NIP). And secondly, even though Mr. Castillo's investments in  movie theatres all over the colony may have been considered industrial ventures in the entertainment sense, the San Cas empire concentrated on import commission, strictly buy-and-sell. Bandag was an unusual investment on Mr. Castillo's part.
It is seldom that you will see a photograph of Mrs. Gwendolyn Lizarraga, popularly known as "Madame Liz." She appears here. Madame Liz represented the Pickstock constituency from 1961 to 1974, and was Minister of Education and Housing for all those years, if I am remembering correctly.   She was a lady powerhouse in Belize's anti-colonial politics, and I remember that she came out strong in 1969 against the gambling casino proposition which was being pushed by PUP Chairman Louis Sylvestre. God bless Madame Liz.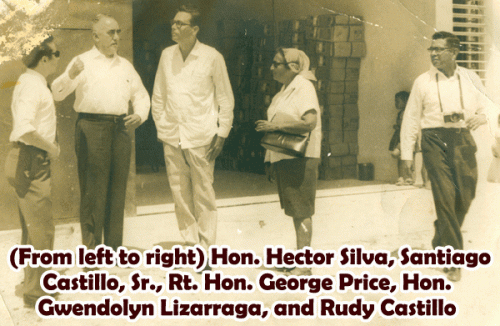 Related Articles
Share
About Author
(0) Readers Comments