BELIZE CITY, Thurs. Feb. 25, 2016–Drivers who went to the service stations to refuel their vehicles this morning were hit with an increase in pump prices after Government decided, for the second time since December, to adjust the level of import duties charged on fuel—with the biggest increase being on diesel.
Our calculations have determined that since the tax measure began to be implemented several weeks ago, the level of import duties has increased by 87 cents on regular gasoline, $1.05 on premium gasoline and $1.45 on diesel.
Last month crude oil prices on the world market fell to their lowest since 2003, according to a CNBC report published Wednesday. The news station reported that prices are currently floating at around US$30 a barrel. The accompanying graph shows that prices have plummeted substantially since July 2014, when the basket reference price was at roughly US$107 a barrel.
The fall in prices is bad news for oil producers, but it should, conversely, be good news for consumers, since the falling world prices should eventually translate to lower pump prices. The reality is, though, that Belizean consumers have not seen the full effect of the fall in market prices, since the level of taxes paid at the pumps has increased.
A release issued by the Government on Wednesday notifying the general public of the price hike, announced that, "Yesterday, the Ministry of Finance apprised the Cabinet of the continued, significant decrease in domestic crude oil production and the attendant slump in tax revenues and royalties, and made recommendations for immediate compensatory adjustments to the duties levied upon imported fuel products."
When Government increased the import duty on fuel last December, it had said in a statement that it had become necessary as a fiscal consolidation measure to strengthen public finances at the start of the new 2016 calendar year and also to compensate for the decline in revenues linked to the decline in domestic crude oil production.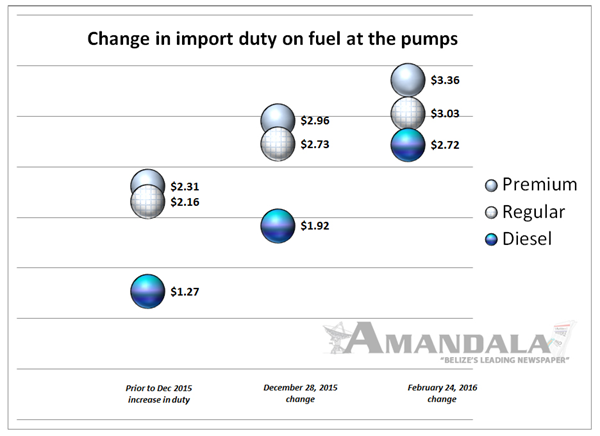 It added, though, that, "It is anticipated that in the coming weeks the C.I.F. prices [cost, insurance and freight, to land fuel in Belize] of imported fuel products will decline significantly, in step with declining world oil prices and that pump prices will stabilize at a point below $9.00 and $8.00 per gallon mark for premium and regular gasolines respectively, and below $6.50 per gallon for diesel oil."
With the change in pump prices at midnight last night the new prices in Belize City are $8.99 for a gallon of premium gasoline, $7.98 for regular gasoline, and $7.52 for diesel.
Meanwhile, prices are higher in Punta Gorda due to added transport costs to get fuel distributed to that location. We were told that a gallon of regular gasoline sells there for $8.23, while a gallon of premium gas sells for $9.24. Diesel sells in PG for $7.78 a gallon.
The Government's press release said that, "Cabinet considered carefully the massive benefits of falling oil prices including the projected windfall savings to Belizean consumers, estimated at more than BZ$163 million this year compared to 2014 and the reduction by 60% in government's fuel import bill as compared to that same period. At current import prices, the approved tax adjustments to date ensure that consumers continue to keep in excess of two thirds or more than $100 million of this windfall savings."
The statement adds that, "Cabinet and the Ministry of Finance believe these adjustments to be sustainable and equitable, especially in our current low-inflation environment, when compared to other potential tax adjustments which could possibly constrain growth and negatively impact the lower income and economically vulnerable members of society."
The release ended saying that prices are expected to fall at the pumps in the coming weeks.
When Prime Minister and Minister of Finance Dean Barrow gave his New Year's address for 2016, he had said that the increase in import duty on fuel was "the only tax measure we will take," in order to "meet debt obligations…"
Apart from helping to compensate for shortfalls to meet debt obligations, the tax increase would also "pay for expansion in services, particularly regarding national security and the acquisition of assets such as the three BDF helicopters and the two latest model Coast Guard boats," Barrow had outlined.