BELIZE CITY, Wed. Mar. 14, 2018– The PUP slate that garnered 52% of the nearly 235,000 votes cast in last week's Belize City Council election was sworn in before an enthusiastic throng of supporters and well-wishers in a joyous and at times raucous ceremony in front of the venerable City Hall this afternoon.
Mayor Bernard Wagner and his 10 councillors all individually took their oath of office before sharing a few words and listening to speeches by PUP leader Hon. John Briceño. The new mayor also gave an inaugural address.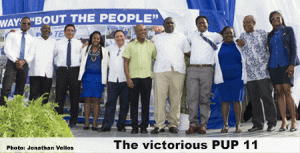 Briceño sounded a common theme when he told the large gathering that the Prime Minister could call the general elections now.
"Bring it on", he said, before issuing the reminder that the PUP campaign was about "people versus projects," and that this council must lead by example.
It was a great feeling, he declared, to return the PUP to City Hall in Belize City.
In his inaugural address, Mayor Bernard Wagner, for the moment, looked beyond ever-growing concerns about the state of the Council's finances and touched briefly on the "tremendous challenges" Belize City faces.
"Our urban housing stock leaves a lot to be desired," he said. "Housing development has been unable to keep up with urban population growth. Our transportation network is inadequate and has impeded mobility and human productivity. Flooding and climate change challenges have been further exacerbated by poorly designed drainage, infrastructure and poor maintenance," he stated.
He promised that by September, the Belize City Council will have a housing construction which will be consummated through partnership with a housing developer.
He was upbeat in his assessment of the challenge of managing the nation's largest municipality. "You want solutions, you don't want to hear no crying, you don't want to hear 'oh this was happening before'; you want us to show a better way – – a better way forward," he told onlookers.
"We are committed to building a city of neighborhoods that care. A city where you look out for your neighbor. A city of learning, a city of healing, a city of courage and creativity, a city of heart, a city of hope, a city reborn. That's the Belize City I grew up in. That is the city we can build together. A city is all about the people," he said.
Michael "Chips" Noralez, jokingly told the assembly that after months of campaigning, he can now go home to his wife and family.
Micah Goodin, said that he was only 12 years old when a PUP team managed the Belize City Council. What has changed, he said, is that today, more of the City's young men are dying on better streets.
Ryan Elijio, with great passion declared that he would continue to be "the voice of the children".
Delthrude Hylton, reminded the gathering that "we accomplished what was considered impossible" by winning the election, and declared that it is now time to deliver.
In his brief remarks, Allan Pollard who is the youngest candidate declared their commitment to "fairness" and to treating every citizen the same, regardless of social and economic status.
Albert Vaughan said that residents had only two choices, and chose "change over remaining the same".
Other councilors Aisha Gentle, Candice Pitts and Javier Castellanos all contributed in thanking their supporters.
Orange Walk and Corozal mayors Kevin Bernard and Rigo Vellos were honoured guests in attendance.