BELIZE CITY, Wed. Sept. 23, 2015–After their 8-0 loss to Queretaro at high altitude in Queretaro, Mexico (over 7,000 feet above sea level) last week Thursday, September 17, Belize's national champions Verdes FC was for all intents and purposes out of contention for a spot in the quarterfinal round of the 2015 CONCACAF Champions League tournament.  But, as Verdes manager Ian Jones has said, this team is built with a 5-year plan, and there is no room for despair, despite the terrible setback.  And last night at the FFB Stadium in Belmopan, the Verdes club took Belize across another hurdle on the international football stage, when they posted their and our first ever Champions League win, 2-1, over San Francisco FC of Panama, which also included our first ever goal scored in Champions League play.  Back in 2008, Verdes had lost a pair of Champions League matches by identical 6-0 scores to Cruz Azul of Mexico.  And in the recent series against Queretaro, although Verdes had held them to a 0-0 draw at the FFB Stadium, they failed to score again in the return match in Queretaro, Mexico, where they lost, 8-0.  So, the 2-1 victory over San Francisco FC was a big step forward for Verdes and for Belize football.
With the month long national celebrations having culminated the day before with Independence Day festivities, and scattered showers drenching the country from north to south, even causing the cancellation of the citizens parade in Belize City, and Verdes having no hopes of making it to the next round after their 8-0 loss to Queretaro, it was hardly surprising that the turnout to last night's game was significantly smaller than at their last international outing.  But for those brave and lucky souls who attended, it was a night of satisfaction and celebration, as the home team gave them a hard fought victory, even as it sent the hopes and dreams dashing for our Panama opponents, who needed two victories against Verdes to wrench the quarterfinal spot away from Mexico's Queretaro.
    Under the circumstances, it was perhaps unfortunate that CONCACAF    authorities chose an all-Mexican officiating crew, though referee Oscar Macias Romo was fair throughout and was quite justified in his penalty call in favor of Verdes when their Mexican import Jesus Patino was fouled inside the San Francisco FC penalty area.  Nevertheless, it was perhaps poetic justice that the game, and the fate of Queretaro, would not be decided in this fashion, as Deon McCaulay, after a long wait while San Francisco goalie Alex Rodriguez remonstrated with referee Oscar Macias, promptly sent the goalie the wrong way, but hit under the cross bar on the right side, and was unable to finish the rebound, thus letting San Francisco off the hook.
    Verdes' technical director Marvin Ottley was celebrating a birthday yesterday, and we got a chance before the game to congratulate him and wish for a victory present.  And while we both conceded that qualification to the Champions League quarterfinal was not a realistic hope, we concurred that a victory would nevertheless do very well to salve the wound after the 8-0 disappointment, and send a message to the region that Belize football is moving up and certainly deserves its place in the Champions League.  And our wish was realized.
     Displaying exceptional ball handling and passing skills, San Francisco FC jumped to a 1-nil lead at the 12th minute, when forward Daniel Moran's right footed lob from the left edge of the eighteen caught Verdes goalkeeper Benito Moreira leaping high at the near post, as the ball curved overhead to drop into the right corner.
    But while San Francisco was dominating the center of the field, Verdes midfield wingers, Yoras Silva and Nahjib Guerra were repeatedly making threatening runs on the line with assistance alternately from attacking midfielder Jesus Patino and strikers Alcides Thomas and Deon McCaulay.  It was a floater from the right wing by Yoras that found Deon with a leaping header into the left corner past San Francisco goalie Alex Rodriguez to tie the score 1-1 at the 18th minute.
    It was almost 2-1 in favor of Verdes at the 36th minute, when another center from Silva saw Verdes midfielder Jesus Patino taken down in the eighteen; but Deon's penalty shot hit under the cross bar on the right side, bounced on the goal line and came back out, even as Rodriguez was diving the other way.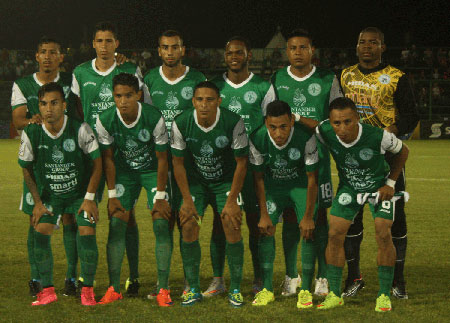 San Francisco tried hard to regain the lead against a stern Verdes defence, and there were some anxious moments at both ends of the field, as both goalkeepers had to work hard.  Taking more risks on attack, as they desperately needed a win to keep their chances alive for advancing, San Francisco paid the price near the end, as Yoras again penetrated down to the right goal line, and, challenged by goalie Rodriguez, managed to find Deon on the left side with a low pass, and it was academic, as Deon made no mistake.  2-1, Verdes over San Francisco FC at the 88th minute.  And that's how it ended.
    The return match takes place in Panama on October 22, but neither team can qualify for the quarterfinals, as Queretaro has sealed that spot with their 7 points and +9 goal difference.  A victory in game 2 by San Francisco would now only give them 6 points, while another Verdes win would put them tied with Queretaro at 7 points, but with little hope of eclipsing Queretaro's +9 goal difference, since Verdes is presently at a -7 goal difference.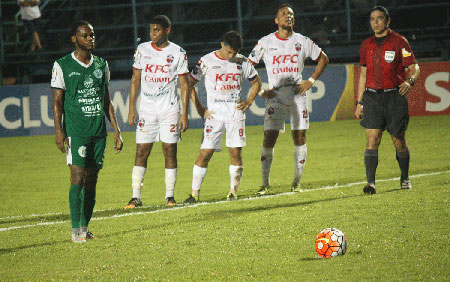 Nevertheless, the game will be important, for San Francisco to satisfy their home fans, and for Verdes to convince the rest of Central America that Belize's Premier League football will be a force to reckon with in the near future.
    Verdes –  #11 Benito Moreira (goalkeeper), #18 Victor Cruz, #6 Rodney Torres Pacheco (#10 Jarret Davis 65'), #26 Willian Nascimento, #30 Chris Gilharry, #3 San Mendez, #7 Nahjib Guerra (#8 Ricardo Jimenez 89'), #16 Jesus Patino, #25 Yoras Silva, #9 Deon McCaulay, #14 Alcides Thomas.  Coach – Walter Salazar.
Related Articles
Share
About Author
(0) Readers Comments