Features
— 07 November 2014
— by Albert J. Ciego
BELIZE CIT–At about 10:30 this morning, the Rotary Club of Belize built and handed over a house to a needy family: Katherine Thomas and her three sons. Thomas and one of her sons are physically handicapped and are each confined to a wheelchair. The physically handicapped son is also mentally challenged.
The house, which was constructed at an approximate cost of $30,000 by the Rotary Club, was built on the family's plot of land which is located in the Jane Usher Boulevard area.
Emotions were high when Katherine Thomas was wheeled in and given a tour of the house for the first time, and tears of happiness streamed from her eyes, as she was wheeled to the different areas of the house — the bedroom, bathroom and kitchen. She was accompanied by her three sons.
Thomas said, "I can't describe it; I just feel good that it's my home. I own a home. Due to all the help I got, I really appreciate all the help and from everyone. I can't even imagine to think I would end up with my own home."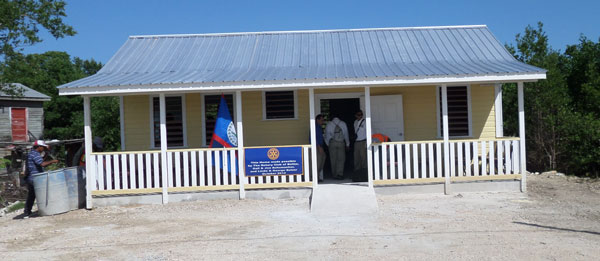 Major Errol Robateau, Belize Rotary president, welcomed her to the house and said prayers, asking God to bless her and the house. The National Anthem was sung and words of thanks and acknowledgement were said, after which the keys were handed over to the happy and emotional Thomas, and her family.
Robateau said that they were happy to assist Thomas and her three sons, because they were in desperate need: Thomas had been abandoned by her husband when she became ill and paralyzed.
Major Robateau mentioned that the house was one of many projects they have been involved in. They build one or two houses per year, depending on the funds available, and there was collaboration with other agencies, including the Belize Electricity Limited, which wired the house free of charge as an ongoing social assistance to needy families, and the Belize Water Services Limited, which provided running water to the house, also free of charge. Also, because of the family's predicament, they will not be billed for their water usage.
Thomas' new house, in addition to having electricity and running water, has handlebars that she can hold on to for support so that she can shower herself. It also is furnished with a stove and refrigerator that are both of low height, and thus within her reach. In fact, efforts were made to ensure that the various fixtures and appliances in the house were positioned in spots that would be within her grasp. A ramp was also installed at the entrance of the house so that she can wheel herself into the house without much difficulty.
Major Robateau said that to raise funds for the projects, they carry out a vehicle raffle, and a Rotary stage play. The vehicle raffled for this year is a 2014 Toyota Hilux pickup truck. A thousand tickets are being sold at $100 each. It is a limited raffle, and after all the tickets are sold, the raffle will be held. It is scheduled for December 23.
Money from this raffle, donations from abroad, and contributions made by Rotary members are used to fund the ongoing programs, one of which is the Gift of Life Program, by means of which they help save the lives of children suffering with heart conditions by sending them abroad to specialized facilities, where they can be helped. So far, 85 children have received this type of assistance for this year.
The Rotary Club has also been involved in the conducting of school feeding programs and the granting of scholarships.
Major Robateau said that 300 wheelchairs have been donated to the Rotary Club and they will be issued to needy Belizeans on Thursday and Friday, November 13 and 14. People needing chairs are urged to call 222-4369.
Francis Woods, the person in charge of fundraising for Rotary Belize, said that Katherine Thomas and her family were introduced to them by a fellow church member, and they began to look into her situation, and found her living conditions were deplorable. She was living in a small, abandoned house.
Related Articles
Share
About Author
(0) Readers Comments