BELIZE CITY, Tues. Feb. 10, 2015–A group of 115 members of the Royal Canadian Legion, Canada's largest veteran and community services organization, traveled to Belize aboard the Carnival Escape cruise today, as part of their annual Caribbean tour to jurisdictions which are home to the World War II veterans they support with a regular stipend as a token of their service.
The group, of which 75 persons came ashore for a recognition ceremony and sightseeing tour, was headed by the dominion president Tom Eagles.
Bernard Adolphus, member of the Belize Ex-Services League and a former president, said at an opening ceremony organized by the Belize City Council that the Belize league cannot thank the Royal Canadian Legion enough for the help that it has given to the veterans and widows over the years.
"We are forever grateful," Adolphus commented.
He introduced Eagles as the 41st legionnaire to serve as president in the organization's 88 years of existence. Eagles, he said, has spent 37 years serving the group.
"It is a show of gratitude that I stand here as a grandson of a veteran to extend heartfelt gratitude and thanks," said Belize City mayor Darrell Bradley.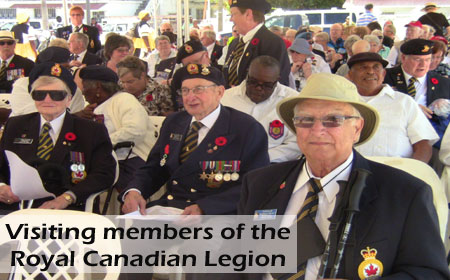 Bradley said although people don't often recognize those who have paid the ultimate price for us to enjoy freedom today, he wanted to use the occasion to recognize the visiting and local veterans and thank them for defending that freedom. He added that our generation should never forget that freedom is something that is defended.
After his official remarks, he presented the keys to Belize City — one that is presented to honor distinguished persons and organizations – to Eagles as a token of appreciation and as an open invitation for him to come again to Belize City.
Eagles noted that there are 300,000 members of the Royal Canadian Legion who support veterans in 15 Caribbean countries, including Belize. Out of their personal resources, they donate to a fund out of which a regular stipend is paid to war veterans and widows.
In Belize, there are 11 World War II veterans who receive $300 a month and 14 widows receiving $75 a month.
Before laying a wreath at the monument for war veterans located at the Memorial Park in Belize City, Eagles thanked Belize City, the Belize City Council, and the Belize Ex-Services League, for hosting them. He also gave accolades to the Ugundani Dance Group, which showcased the Garifuna culture with a vibrant repertoire of traditional songs and dances. After the ceremony, the group traveled to Altun Ha, one of Belize's Maya premier monuments, with tour guide Tom Greenwood.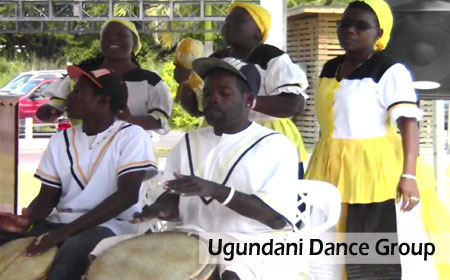 Before coming to Belize, the Royal Canadian Legion was in Cayman. They travel next to Cozumel, Mexico and then their disembarkation port at Ft. Lauderdale, Florida, from where they will fly back to Canada.