General
— 26 August 2014
— by Rowland A. Parks
PLACENCIA—A meeting of the board of directors of Robert's Grove Beach Resort, said to be the premier tourist resort in southern Belize, according to a number of tourism experts, had to be aborted because a member of the board objected to attorney Arthur Saldivar's presence in his capacity as the attorney for Jean Marc Tesse, the majority shareholder of the resort.
Even before the meeting could get underway, there was an altercation between Saldivar and Boris Mansfield, a minority shareholder, who was about to chair the three-member board meeting, which included director Michael Kramer.
Amandala was invited to the resort to report on the altercation between Saldivar and Mansfield, which had been reported on a local radio station.
Within minutes after the altercation had occurred in the conference room at Robert's Grove, a flash news bulletin was on a radio station reporting that Saldivar, who has had his share of controversy in the national spotlight, was being sought by Placencia police.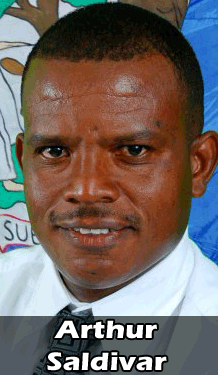 Before the close of the workday, however, Mansfield was back at Robert's Grove. This time he had delivered a letter to Jean Marc Tesse, indicating that the morning's aborted board meeting was set to be held at his (Mansfield's attorney's office) at the Courtenay and Coye law firm.
Not only had Mansfield returned to deliver the letter about the new board meeting scheduled to be held at his attorney's Belize City office; he had also contacted the Placencia police for them to come to the resort and remove Saldivar.
When the police came, Mansfield and the two officers conferred and the police left without removing Saldivar, the majority shareholder's attorney, who had remained seated at Seaside Restaurant, one of the resort's three restaurants, along with his client, Jean Marc.
When he was asked what happened at the board meeting that caused it to be aborted, Mansfield said, "The meeting was called to address certain business matters here at the resort."  Mansfield went on to explain that, apart from the business matters that were to be discussed, "funds have gone missing from the resort, and properties has been transferred, so I called the meeting."
Mansfield said that he and the other director, Michael Kramer, were present when "Jean Marc walked late into the meeting in the company of Mr. Saldivar."
"I called the meeting to order. So first of all, I asked Mr. Saldivar what he was doing here, because I didn't invite him," Mansfield said.
Mansfield alleged to Amandala that Saldivar interrupted the meeting and physically assaulted him, and took the minutes of past board meetings, and that was why he made a report to the police.
Saldivar, however, told Amandala, "I was assaulted by Mansfield. He physically tried to wrestle away the documents away from me, after my client had passed them to me to look upon."
"I held on to the documents while he was choking me," Saldivar explained, "I backed away from him and eventually he relinquished."
"Now I don't know what he is talking about in terms of stealing documents. My client gave the documents to me to review. After reviewing those documents, I gave them back to my client," Saldivar said.
Saldivar stated, "I was invited to the meeting by my client, to advise him about what his rights are."
So Mr. Mansfield could have brought his attorney, if he wanted, Amandala asked Saldivar.
"As you are aware, he [Mansfield] has made an arrangement to have the board meeting at his attorney's office, Courtenay and Coye," Saldivar said.
When asked for his assessment of the allegation that Mansfield had made, that monies have gone missing from accounts at Robert's Grove, Saldivar explained: "The majority shareholder of Robert's Grove and the managing director is my client. The books are open for all shareholders."
Saldivar added, "Boris Mansfield is a representative of the Mansfield Family Trust; he is not an owner."
In his statement to Placencia police, Saldivar elaborated on some aspects of the board meeting, saying that Mansfield had proposed a motion to have himself elected as managing director and that he, Saldivar, had told the other two shareholders that Mansfield could not do that.
"I told those around the table that the meeting was null and void, and that it was an improper meeting," Saldivar said in his report to Placencia police.
Saldivar recounted that he had been reviewing the documents when Mansfield attempted to yank them from out of his hand, and, according to Saldivar, Mansfield physically manhandled him to wrestle the documents from him.
Saldivar also reported to the police that he felt disrespected and that he was requesting legal action against Mansfield, whose "mental capacity to interact normally with others is questionable," because "he is prone to losing control and is a danger to himself and others."
Robert's Grove Resort provides employment to 124 Belizeans. Presently, it is not only Saldivar with whom Mansfield appeared to have had difficulties.
Presently there is a staff petition in circulation that has already been signed by at least half of Robert's Grove employees. The employees' petition was emailed to Amandala by one of the employees, and it requested that Mansfield be removed as a director from the company.
The employees' petition says: "WE THE UNDERSIGNED, managers and staff of Robert's Grove Beach Resort, hereby declare that Mr. Boris Mansfield has been a disruptive and chaotic influence on the business of Robert's Grove. He has exhibited a high degree of arrogance and boorish behavior, oftentimes disrespecting members of staff in full view of guests, without cause. Whenever Mr. Mansfield is on the premises, he brings an atmosphere of fear and dread, as his abusive behavior erupts without warning, causing us to believe that he may one day cross the line and do harm to himself, us or a patron of the resort."
Related Articles
Share
About Author
(0) Readers Comments