BELIZE CITY, Thurs. Feb. 12, 2015–The Central Secondary Schools Sports Association (CSSSA) wrapped up its abbreviated high school football competition yesterday with the male finals at the MCC Grounds.
The female championship game was played on Saturday along with three other male games, including two by eventual champions, Gwen Liz High.
In game 1 on Saturday, Wesley defeated E.P. Yorke, 2-0, with goals from Bernard Bailey.
Game 2 saw Gwen Liz with the 2-1 win over SJC. Devaughn Zuniga and Naim Wilson shook the net for Gwen Liz, while Dmitri Fabro scored for SJC.
Game 3 was the female championship match between SCA and Gwen Liz High, and it was SCA coming away with the 2-nil win and the championship, both goals coming from Gabriela Mendoza, a 13 year old first former.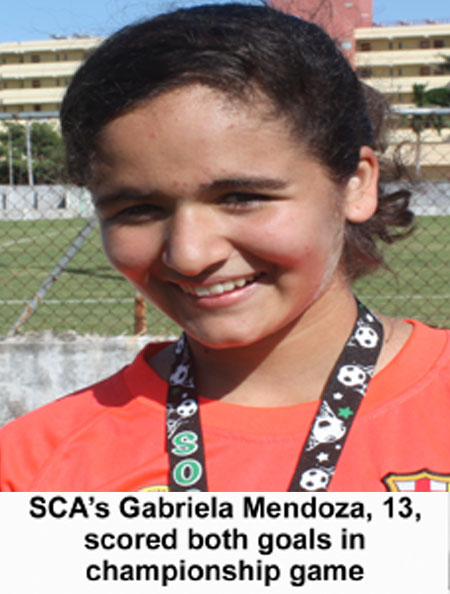 In game 4 on Saturday, it was Gwen Liz boys taking the field again, this time against Ladyville Tech, and this one had to go to a penalty shootout, with Gwen Liz boys prevailing, 4-3, to earn a spot in the finals. Naim Wilson, Clinton Dawson, Jovian Usher and Amil Crawford hit the target for Gwen Liz; while Alfredo Franco, Hakeem Smith and Aaron Perez scored for Ladyville Tech.
The male championship game was played yesterday, Wednesday, at the MCC, and it was 1-1 in regulation, with Jovian Usher shaking the net for Gwen Liz, and Jonathan Perrera for Wesley. In the penalty shootout that followed, Gwen Liz was victorious, 3-2, to take the CSSSA male football championship. Scorers for Gwen Liz were Naim Wilson, Clinton Dawson and Jovian Usher; while Bernard Bailey and Shemar Thompson tallied in the loss for Wesley.
Saint Catherine Academy girls and Gwen Lizarraga High School boys will therefore represent the Belize District in the high school football Nationals, to be held next week Friday and Saturday, February 20-21, in San Ignacio.