BELIZE CITY, Thurs. Dec. 22, 2016–Simone Arianne Biles, the 19-year-old world-famous superstar gymnast originally of the USA, but who has Belizean citizenship through her mother, Nellie Cayetano Biles, arrived in her second home, Belize, with fanfare, in answer to a special invitation from the Belize Tourism Board (BTB) to come relax in Belize after her stunning performance at the Rio Olympic Games in August.
For the BTB, the social media engagement with Biles, who immediately replied accepting the invitation, is a marketing strategy which has worked well in garnering attention for Belize while the world's attention was fixed on Biles. For Simone, though, she had no difficulty accepting the offer to come to Belize—the only place she fishes, a hobby she has been engaged in, in Belize since she was a little girl, although she officially attained her citizenship two years ago.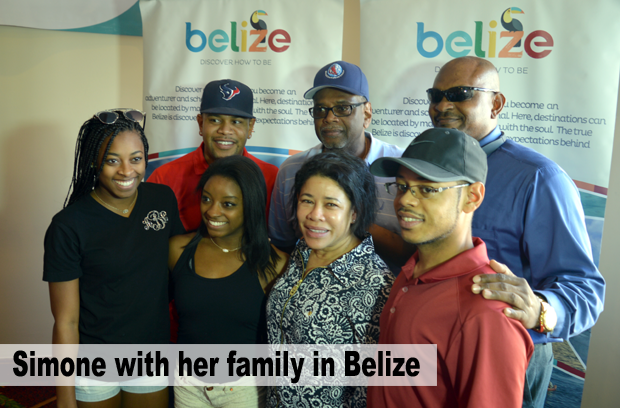 At a welcome press conference held at the Best Western Biltmore Plaza right after her arrival in Belize today, Biles, a petite Belizean-American 4 feet 8 inches tall, stood tall in conveying her key message to Belizean youth and athletes—that wielding mind over matter leads to success.
"It is pretty crazy how strong your mind can be when you put yourself and say you wanna do something and then you can achieve it," Biles said.
Biles has been unabashed about the fact that she had been diagnosed with Attention Deficit Hyperactivity Disorder (ADHD), a condition with which an increasing number of children are being diagnosed. We asked her about the challenges she has faced and how doing gymnastics has helped her to cope. She admits that ADHD has made it a bit challenging for her to concentrate in school as well as during some of her gym activities, but medication, in her case Ritalin, has helped.
"We're just like any other kid; it's just that we are a little bit more hyperactive, but other than that, we're fine," she said.
Tourism Minister Manuel Heredia said that Biles, who made history by garnering 19 Olympic and World Championship medals, has demonstrated that hard work does pay off. Biles, whom he called "a true Belizean at heart," took the time to remind the world of her Belizean connection, placing Belize on the world stage, the minister said.
Deputy Prime Minister Patrick Faber, Minister responsible for Youth, Education and Sports, said that there are key lessons for Belizeans at home and abroad: he said that the contributions of Belizeans abroad are as important as the contributions made by Belizeans here, and they should never be discounted.
He described Biles as a light which shines bright for young people here in Belize, adding later that Biles is "as Belizean as you can get." Notably, Biles' favorite food is Belize's national dish: rice and beans.
"It's my favorite and my mom makes it back home too so," said Biles.
Although there are many Belizeans who are welcoming Biles with open arms, among them are those who have expressed their dissatisfaction with the BTB, because, they contend, that the same gestures are not made to native Belizean athletes. Some of the criticism has been levied in social media posts, even as we go to press.
Minister Faber said: "I want to tell you there are some people who will have a few negative things to say. Let us deal with that. I have been watching on Facebook: 'Oh, the people who are local here, and this that. We don't do this that.' Listen, as I've said, we are Belizean, no matter where we are… we can put Belize on the map no matter where we reside."
Special Envoy for Women and Children, Kim Simplis-Barrow, who tonight hosted Simone and her family for dinner along with Prime Minister Dean Barrow, lauded Biles for her humility, noting that her beautiful smile beamed right through the television screens "and captivated us in a way that I don't think we will ever see again…"
Barrow told Biles, "…you have so many admirers in this country."
But Biles said that being in the limelight has been a challenge, since "…everyone is judging everything I do."
She never anticipated that her gestures in recognizing Belize would have yielded the results they have, but she wants to spend the time celebrating family in the place she loves. We asked her what the highlight of her trip would be and she said: "Just spend time with family. I hadn't got to do a whole lot of it this entire year, because I've been busy. I'm traveling all over, so that's the main thing."
Welcome motorcade held Thursday evening for Simone Biles, on the way to ceremony at Battlefield Park
Related Articles
Share
About Author
(0) Readers Comments