BELIZE CITY, Wed, June 29, 2016–After an overall drop in consumer prices in 2015, consumer prices continue on an upward trend in May 2016, which saw an overall increase in prices of roughly 1%—the highest since the year began.
Price increases in food were the most pronounced, followed by price increases in fuel. The first five months of this year saw an inflation rate of 0.4 percent.
Angelita Campbell, Statistician II at the Statistical Institute of Belize presented the latest information on Belize's consumer price index, as of May 2016.
"For the fuel prices, we realized fuel prices have been the highest since the start of the year, so that's something that stood out to us," Campbell said.
Some meat prices are also notably higher. Campbell said that prices have been trending up since late last year, and that has been consistent since December 2015.
Additionally, the SIB observed an increase in healthcare costs, also since late last year.
Belize City, San Ignacio/Santa Elena, Dangriga and Belmopan all recorded inflation rates below the national average for May 2016. Whereas last year saw inflation hitting the southern municipality of Dangriga the hardest, with an overall rate of 2.7%, inflation for May 2016 was the highest in Punta Gorda, Corozal and Orange Walk. The northern districts had previously reported lower rates of inflation.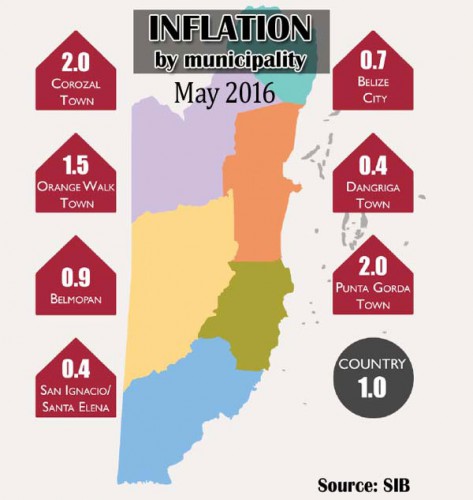 Campbell said that in the case of Corozal, the marked increase was due to higher prices for motor vehicles spare parts. She said that Corozal recorded the only increase in the transport index for the month of May 2016. Punta Gorda recorded one of the highest increases in home rental prices.
The SIB notes that, "The 'fuel' index recorded an increase of 1.9 percent, as a result of a 0.4 percent increase in the price of regular gasoline and a 6.6 percent rise in that of diesel. These were offset by international airfares, which were down by 12.1 percent when compared to May 2015, and premium gasoline prices, which were 2.5 percent lower than they were one year ago."
Whereas prices in the "food and non-alcoholic beverages" category increased only marginally, by 0.4 percent, higher prices were recorded for beef, chicken breast, flour, cabbage and fresh fruit, while the prices of sweet peppers, yellow onions, and red kidney beans remained lower than they were in May 2015.
"Higher motor vehicle and health insurance premiums, doctor's consultation fees, hotel rates and hairdressing prices all contributed to a 1.6 percent increase in 'all other categories of goods and services,'" the SIB said.
The price of Liquefied Petroleum Gas (LPG) continues to fall, the SIB said, pointing to a 24% drop since last year, when a 100-pound cylinder was priced at $111 in Belize City.