BELIZE CITY, Mon. Jan. 8, 2018– After two very competitive semifinals game 1 a couple weeks ago, few expected what took place in the second leg of the CYDP Peace Cup semifinals on Saturday, January 7, at the MCC Grounds. Only 1 goal, a beauty by FC Elite's super-talented midfielder turned striker, Orlando Velasquez, was scored in the first leg of the semifinals, where the opener saw Kelly Street and Tut Bay ending up scoreless, after which FC Elite clipped previously unbeaten Stars Academy, 1-nil.  But in the second-leg semifinal clashes this past Saturday, the floodgates opened, with blow-out shutout scores in both games.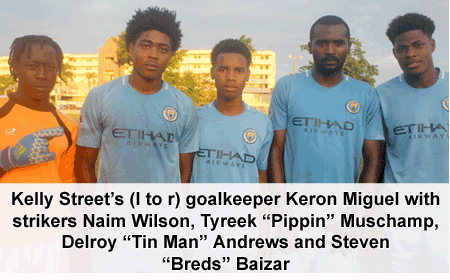 In the opener this past Saturday, between FC Elite and Stars Academy, young Velasquez struck again, early in first half with a spectacular shot from just outside the eighteen that still has fans talking. We were not there to see it, but our sources say Velasquez received an air pass on his chest, turned and, before the ball hit the ground, unleashed a rocket that stayed chest high until the net tightened behind a bewildered Stanley "Jordan" Reneau in goal for Stars Academy. FC Elite got 3 more goals, 2 from Milton Estrada and the other from Marlon Gutierrez, on their way to a 4-0 win, for an aggregate 5-nil over both legs of the semifinals.
The nightcap second-leg semifinal between Kelly Street and Tut Bay provided some unexpected theatre, after a penalty conversion by Delroy "Tin Man" Andrews and a tap-in from close range by rookie Tyreek "Pippin" Muschamp had given Kelly Street the 2-nil lead mid-way through first half. When frustrated Tut Bay goalie Jason "Buju" Thurton baited Kelly Street striker Francisco Briceno into an on-field fracas, both were red-carded, but Buju's ensuing antics, eventually led to his being corralled and detained by Police, before being escorted through the gate of the MCC. Two more goals in second half, one by Steven "Breds" Baizer and the other by another promising youth, Naim Wilson, sealed the 4-nil win for Kelly Street.
The championship of the 2017-2018 CYDP Peace Cup Tournament, which is reportedly endorsed by the Belize District Football Association (BDFA) as its 1st Division Tournament, will also be a best-of-two games series, with game 1 scheduled for this Saturday at the MCC.  Next Saturday, the third place game between Tut Bay and Stars Academy will precede the second leg of the finals featuring FC Elite and Kelly Street.
Related Articles
Share
About Author
(0) Readers Comments