Headline
— 19 August 2014
— by Kareem Clarke
BELMOPAN—A damning video taken moments after a fatal traffic accident in the early morning of Saturday, August 16, at Mile 71 on the George Price Highway, on the outskirts of San Jose Succotz, forced an emergency police press conference late this evening, hosted by Commissioner Allen Whylie, flanked by two top brass officials from the Ministry of National Security, in Belmopan.
ComPol Whylie announced that Deputy Commissioner of Police, Miguel Segura, 48, involved in the accident, had been placed on "interdiction/suspension," which is "effective immediately."
Yolanda Consuelo Valencia, 54, died when Segura's grey Nissan Pathfinder collided with a blue taxi that Valencia was traveling in, at about 5:35 a.m. on Saturday.
After the collision that killed Valencia, a video, taken with what appeared to be a cellphone, showed Segura coming out of his vehicle, lighting a cigarette and zipping up his trousers, apparently totally unconcerned that a fatal traffic accident had just taken place, and he was in the center of it.
The video showed that, while Segura was smoking his cigarette, Valencia lay sprawled in the rear of the taxi, where the impact had thrown her. She was apparently dead.
An eyewitness who was coming directly behind the taxi told the media what she saw.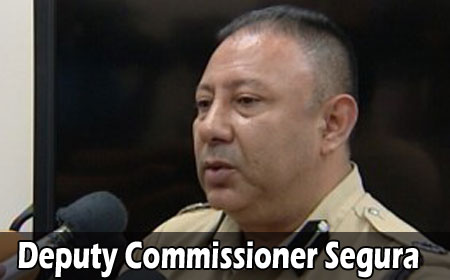 Witnesses allege that ACP Segura's fellow officers removed evidence from his vehicle, and in an unprecedented act, firemen hosed down Segura's vehicle and washed blood from the crime scene
She said, "Two other taxis were on the highway at the time when the blue taxi was hit. He [Segura] was also going to crash into those two, but they managed to avoid him, so he hit the other taxi. Mr. Segura was coming hard, and the taxi driver was trying to go to one side so that he would not be hit, but they still collided into each other because the Pathfinder was going from side to side on the road.
"When we passed, another person came out of the car and he [Segura] was still there fixing his pants, and then he began smoking a cigarette. It was the gentleman who was with him who helped to pull out the lady from the car.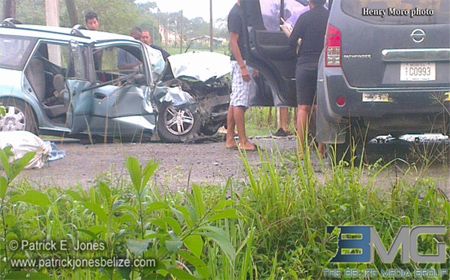 "Benque police arrived after, but they stood there looking before they tried to pick her up, because we told them to do so. Then the firefighters came and they washed off the scene with their hoses because there was a lot of blood."
Witnesses said that Segura not only left the scene of the accident in the company of police officers, but later appeared at the police station after having taken a bath and changed his clothes. Witnesses, however, said that he appeared to have been "under the influence."
To make matters worse, according to the witnesses, police officers cleaned out his vehicle, getting rid of damning evidence, and the fire service came and washed Segura's vehicle, and also washed the blood from the road.
While Valencia had succumbed almost instantly to severe head and body injuries, the taxi driver, Yanie Evan Ku, 28, of the Kontiki area of San Ignacio, sustained head and body injuries and was taken to the Karl Heusner Memorial Hospital (KHMH) in Belize City.
In the press conference, ComPol Whylie said that when he learned of the accident, he asked Russell Blackett, ACP, to "go out there and ensure we are on top of the situation."
Blackett told the press that about 15 minutes after the incident occurred, he went on the scene, and, he claimed, "the procedures according to any traffic accident was adhered to". "The measurements were taken, the samples from Mr. Segura were taken at the Polyclinic in San Ignacio, the vehicles were removed, as the normal process dictates …personally, I picked up Mr. Segura and the officer commanding Benque Viejo Police Station, and took him to the polyclinic to be tested, a specimen test to be taken. Family members were there and I spoke to them personally, as to what occurred."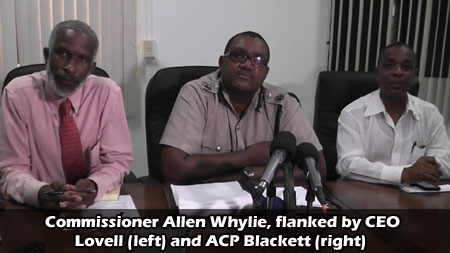 According to a police press release issued after 10 Sunday night, Segura was alone in his vehicle, but, as evidenced by the eyewitness' statement previously mentioned, there was another man with him in the vehicle.
Valencia, a market vendor and mother of 3, had left home at 5:00 a.m. and was heading to San Ignacio where she normally sold used clothes at the town market.
Eyewitnesses alleged that Segura, on the other hand, was seen socializing earlier at a popular entertainment center in San Ignacio.
Police in that press release issued late Sunday night, declared that "Mr. Segura had been served with a Notice of Intended Prosecution" (NIP), and that "the DPP will be consulted for further advice as investigations continue."
Still, there was a sustained public outcry which was launched by the victim's family and concerned citizens which flooded both the local and social media as they clamored for a thorough investigation of the fatal accident, and as a result, Segura's superiors were apparently compelled to diffuse the public pressure by staging a press conference whereby they informed the public that further action has been taken by the Belize Police Department in order to avoid mounting public perception that a proper investigation would not be done in the wake of the fatality.
Police Commissioner Whylie said, "I met with Deputy Commissioner Segura this morning, and I outlined the course of action which I told him we would have taken and then I briefed the Ministry [of National Security] and I have written to the Ministry, for onward transmission to the Security Services Commission, for the interdiction/suspension of Deputy Commissioner of Police, Miguel Segura from active police duty pending the outcome of the investigation."
According to Whylie, the blood specimen which was taken from Segura was transported to the National Forensic Science Service in Ladyville to be tested, and the results of the post-mortem on Valencia, which was scheduled to be conducted today, will be reviewed as well.
Whylie added that a "thorough, complete investigation will be done and whatever is the outcome, we will deal with it."
The video, taken seconds after the accident, went "viral."
In reference to assertions by eyewitnesses that Segura appeared to be under the influence of alcohol at the time, Whylie outlined that that will only be ascertained after Segura's blood samples are tested.
"What we are trying to ask is that justice be done, because Mr. Segura cannot get away with something that he knows he is totally guilty of", said Eusebio Valdez, Valencia's son-in-law.
Azucena Godoy is the mother of Yanie Ku, 28, the taxi driver who collided with Segura. He is presently hospitalized at the KHMH in a critical but stable condition with a broken right hip and arm.
In an interview on Sunday with KREM News, Godoy corroborated eyewitness accounts which cited the highly irregular manner in which police dealt with the scene of the accident when she arrived at about 5:30 a.m., shortly after it had occurred.
"I saw when the police took my son to the hospital, and I saw when they took Ms. Valencia, but she was already dead. I also saw 2 police officers take out Mr. Segura from his vehicle, but his pants was unzipped and he came out from the car, pushed up his pants and I also saw a lady was also in the vehicle behind him [Segura]. He was smoking a cigarette and laughing, and then they took him away in a police vehicle from the scene," she said.
Godoy said that her son, who has 2 children, is in considerable pain and will require surgery, which could cost between 15 and 20 thousand dollars, according to what doctors have told the family.
In a twist of fate, on June 12, 2009, Edwin Valencia, Yolanda's younger brother who was a taxi driver, was taking Eddie Panti, a close family friend, to Benque Viejo when they crashed into a Dodge Ram pickup between Miles 66 and 67 on the Benque Viejo Road.
At the time, police reported that the driver of the Dodge Ram swerved into Valencia's lane, and like his sister, he died on arrival at the San Ignacio Community Hospital.
On Sunday, Panti, who managed to survive the accident, told reporters that he hopes that, unlike the 2009 incident in which alcohol was also believed to have been involved, justice will be served in this recent case.
Related Articles
Share
About Author
(0) Readers Comments