(Reproduced from Amandala No. 979 of Friday, June 24, 1988, page 2 Editorial)
In the year 1973, the St. Martin de Porres Primary School football team won the Belize City competition sponsored for primary schools by the Belize City Football Association.
When football is vigorous in the city, it is reflected in well organized and competitive primary school competitions. 1973 was such a year, and that St. Martin de Porres team, managed by Lloyd Flowers, was a historic team primarily because the two young men who are today the greatest rivals for the city title of Superstriker no. 1 played together as teammates on that championship squad.
Yes, fifteen years ago Ricky Gongora and Turo Leslie were teammates. Today heated arguments rage amongst their supporters as to who is the superior striker, and the arguments become more heated when they include, as they generally do, the question as to which is the better team – Gongora's City Champions Duurly's, or Leslie's National Champions Coke Milpros. The atmosphere of emotional opinion which surrounds the two, still young men, is so intense it threatens to engulf the two men, and affect the way they view each oth4er and their respective talents.
This is a non-productive state of affairs to our mind, and it would not exist if Belize fielded a standing national selection. For Gongora and Leslie would be teammates if Belize had a World Cup selection, and the greater goal of national honor would reduce their club and personal rivalries to unimportant trivialities.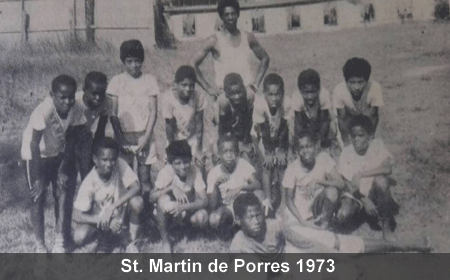 But if that is a situation only to be wished, and not to be realized, we can perhaps refer now to the title of this essay, "A tale of three strikers". For the consensus star of that championship St. Martin de Porres team was neither Ricky Gongora nor Turo Leslie. The star of that team was Christopher Luben, later to be known as "The Greek", a legend in the streets for his personal bravery and daring, but a man who never fulfilled his childhood soccer potential.
Some people say The Greek is now in L.A., but wherever he is, he must laugh when he hears or reads of the Gongora – Leslie rivalry. For when they were boys, Luben was the king without question or challenge.
The story of Chris Luben is one which would perhaps make an outstanding novel, for even while he was the hero of St. Martin de Porres school, he was an inmate at the Princess Royal Youth Hostel. His saga includes being shot in a Corozal bodega, and now the street dossier on him says The Greek is doing 20 to life in an L.A. jail. The Greek's is a tale of tragedy, but it is a tale which should be told to those who like to encourage petty malices among men.
On the stage which is history, each man's life is but a moment and whether Ricky Gongora or Turo Leslie is the better striker is a decision which may never be final. Today for you, and tomorrow for me.
The rivalry between Gongora and Leslie, Duurly's and Coke Milpros is a good one for city soccer, but it would be good if we would keep it in the proper perspective. And by proper perspective in this case, we mean that there are more things which make Ricky Gongora and Turo Leslie alike than those which make them different. Each fan has his personal favourite, but the common denominator, the tie that binds Ricky Gongora and Turo Leslie is Chris Luben. For remember this was a tale of three strikers. And in 1973, Christopher was better than both of them. Does it really matter in 1988 which one, Ricky Gongora or Turo Leslie, is better than the other?