TOLEDO & STANN CREEK, Districts, Mon. July 3, 2017–The southern districts of Toledo and Stann Creek got the worst of heavy rains from a tropical wave that passed over the country over the weekend. The National Emergency Management Organization (NEMO) had to spring into action, because the torrential rains caused numerous rivers and creeks in the south to overflow across their banks, threatening the lives and properties of hundreds of villagers.
Three advisories were issued in less than 24 hours as the organization worked to keep Belizeans in the areas affected, up to date with the situation.
The first advisory, issued at midday on Sunday, announced a flood warning for the Toledo District. Eight families in Crique Sarco (Temash) had to relocate to higher grounds.
In Santa Ana (Moho River), floods pushed the water at the same level with the bank, while in Blue Creek and Aguacate Creek the water rose six feet above the normal level.
In Jordan, the water was level with the road, and in Jacintoville, the water rose about four feet.
The North Stann Creek River rose four feet above normal at Mile 20 on the Stann Creek Valley Road. A flood watch advisory was issued to Sarawee and Hope Creek and shelters were opened.
NEMO issued its secondary advisory at 6 o'clock on Sunday night.
That advisory revealed that Big Falls River had risen 15 feet above normal, while Golden Stream River was at 6 feet above normal. Bladen River was 3 feet above normal. Blue Creek was 4 feet above the bridge and the bridge over Aguacate Creek was also under 4 feet of water.
The San Felipe road remained closed, but the one in Jacintoville, which had been closed, had been reopened. The eight families in Crique Sarco who had to evacuate were still unable to return home.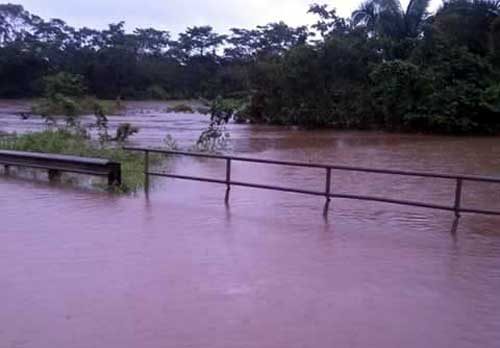 NEMO issued its third advisory at 9:30 this morning to announce that the flood threat was over in the Stann Creek District, as flood waters had begun receding. But in Toledo, many areas remain flooded.
The Moho River (through Jordan) remained 6 feet above normal, but was receding slowly. The Temash River was 15 feet above normal. The road leading to Crique Sarco remained totally inaccessible to traffic because flood waters had risen to about 10 feet.
The Moho River (near Santa Ana) was 8 feet above normal, but was receding slowly. In San Miguel the water was 8 feet above normal, but was receding. In Columbia the bridge was under 3 feet of water.
The news from Big Falls wasn't so encouraging. The water at Big Falls was 20 feet above normal and was rising. A family which lived near the river had to be transported to higher grounds.
Fortunately there were no tragedies reported as a result of the floods.
Related Articles
Share
About Author
(0) Readers Comments