SPANISH LOOKOUT, Cayo District, Mon. Aug. 15, 2016–The Spanish Lookout community in the Cayo District, was hit by a tornado at about 11:00 yesterday morning. Roofs were destroyed, trees were uprooted and buildings were damaged.
Amandala travelled to Spanish Lookout and saw the destruction wrought by what we had initially concluded was the first recorded tornado in the country. Reports are that it was raining when the spiral was seen.
Abram Dyck of Pletts Home Construction told us that at about 11:00 yesterday morning they saw a spiral coming down, with a force and ferocity that exceeded the intensity of Hurricane Earl. He said that the tornado lifted off an entire roof and hurled it into the distance.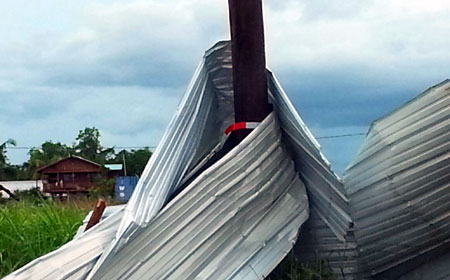 Abram said that many roofs were damaged and that it was the first time that they have seen a tornado. He emphasized that it was very powerful, less than a mile wide and moved quickly, then disappeared.
He said that the Pletts Construction's gym building withstood the hurricane, and there were no damages to its roof.
While driving in the area we saw roofs being repaired by the able Mennonites after being damaged by the tornado.
We consulted with the National Met Office to confirm if history was made yesterday, if this indeed was the first tornado that has occurred in Belize. Chief Met Officer Dennis Gonguez told us that they have recorded tornadoes before, both land tornadoes and sea tornadoes, and although they are recorded far apart, they are not unfamiliar occurrences.
Gonguez said that what is strange is that the severe thunderstorm that occurred in Spanish Lookout does not normally happen in the dry season. He also said that they were not sure whether the forceful wind was a tornado, because it did not appear as a tornado on their monitor, but seemed more like a severe thunderstorm.